It's time for festivals in Charlotte. Here's a big list of Charlotte area. Halloween festivals, Halloween movies, trick-or-treat events and more. Most of these are free. Some have a nominal charge and some charge for activities. Some are for adults and some are for families.
Do you know of others? Let me know and I'll get them on the list. Also, make sure to check out the list of haunted hayrides, corn mazes, and pumpkin patches. And if you haven't already done this (what are you waiting for?) you can subscribe for one daily email from Charlotte on the Cheap.  Make sure to click on each link for the necessary details. Want to get your event highlighted, or even a prime spot at the top of this list? Ask me about sponsoring this post. Email ads@charlotteonthecheap.com.
Day of the Dead celebration at LaCa Projects
Thursday, October 26
5 p.m. to 7 p.m.
LaCa Projects, 1429 Bryant St
Day of the Dead Happy Hour featuring "In Focus/Enfoque: Contemporary Photography in Mexico", Pop-Up Shop by Piet Jac Designs, Paloma & speciality cocktails, Bites by RuRu's Tacos + Tequila, Coffee samples by Basal Coffee, Curated Latin pop music and sweet treats by Suárez Bakery.
Free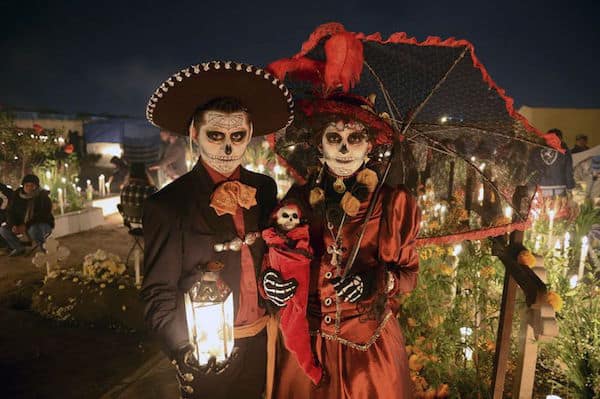 7 Year Anniversary Extravaganza – Day of the Dead
Thursday, October 26
7 p.m. to 10 p.m.
Vida Mexican Kitchen y Cantina, EpiCentre, 210 East Trade Street
Admission is free. The party features music, face painting, a photo booth and more. Pay $10 and also get a themed cocktail and a street taco.
Free to $10
Piedmont Town Center Spooktacular
Thursday, October 26
5:30 p.m. to 7:30 p.m.
Piedmont Town Center, 4725 Piedmont Row Drive
Trick-or-treating, face painting, train ride, balloon artist, much more
Free
Howl-o-Ween at Helles
Friday, October 27
6 p.m. to 9 p.m.
Helles & Dunkel, 222 East Bland Street
Dog costume contest. People need to be age 21+.
Free, but you need a membership, which is $1/year
Trick or Treat in the Park
October 27, 5:30 p.m. to 9 p.m.
Harrisburg Park, 191 Sims Parkway Harrisburg
Costume contest, inflatables, trick-or-treat, games and contests
$3 per child for "all you can play." Bring cash.
Carmel Presbyterian Church's Trunk or Treat
October 27th, 6 p.m. until 8 p.m.
2048 Carmel Road
Carmel Presbyterian will host its annual Trunk or Treat. The event will include a short program, carnival games, and a costume parade. All are invited to a night of candy, fall fun, and fellowship. Hot dog dinners will be available for $1.
Free
Creepy Crawly Critterween
October 27th, 6 p.m. to 9 p.m.
Reedy Creek Nature Center, 2900 Rocky River Road
Free hayrides, meeting live animals, crafts, campfire, marshmallow roast, more
Free
Davidson Halloween March
October 27th, 5 p.m.
Main Street, Davidson
Costumed kids march down Main Street, collecting candy from business owners and vendors.
Free
Trick or Treat with the Merchants
October 27
5 p.m. to 7 p.m.
Promenade on Providence, 10822 Providence Road
Free
Halloween activities at Bass Pro Shop
October 27-31 (time varies)
Bass Pro Shop, Concord Mills
Free pictures, trick-or-treating, crafts and costume parade
Free
All Hallows Eve celebration
October 28, 10 a.m. to 2 p.m.
Historic Latta Plantation, 5225 Sample Road, Huntersville
Trick-or-treating, pumpkin painting, historical Halloween characters.
$9 adults/$8 students and seniors/free for kids 5 and under
Halloween in Old Town Cornelius
October 28, 2 p.m. to 10 p.m.
Oak Street Mill, 19725 Oak Street, Cornelius
Trick-or-treat scavenger hunt from 2 p.m. to 6 p.m. Block party from 2 p.m. to 10 p.m. Live music, costume contests, food trucks, craft beer sales.
Free
Trick or Treat at Regency Village
October 28, 10:30 a.m.
Regency Village, 7725 Regency Lake Dr., Huntersville
Trick-or-treat with the merchants. Age 12 and under.
Free
Halloween at Sycamore Brewing
October 28, 12 p.m. to 11 p.m.
Sycamore Brewing, 2161 Hawkins Street
Costume contest with prizes, including a $100 gift certificate to the brewery. Live music.
Free
Heroes Pop Swap Block Party
October 28, 10 a.m. to 9 p.m.
Heroes Aren't Hard to Find, 417 Pecan Avenue
Free comics, Halloween carnival games, trick or treating, free prizes for kids in costume, more
Free
All Hallow's Eve
October 28, 12 p.m. to 1 a.m.
Cavendish Brewing Co, 207 North Chester Street, Gastonia
Thriller dance lesson, gothic makeup workshop, costume contest, more
Free
Halloween at Waverly
October 28, 2 p.m. to 4 p.m.
Waverly, Providence and Ardrey Kell Roads
Pet costume parade and contest with prizes. DJ, yard games
Free
Trunk or Treat at Missiongathering Charlotte
October 28, 5 p.m. to 7 p.m.
Missiongathering Charlotte, 420 E 15th St
Bobbing for apples, sack races, a costume contest for kids, prizes, candy
Free
Blakeney Trick or Treat Street (formerly Boo Bash)
October 28, 1 p.m. to 4 p.m.
Blakeney, Ardrey Kell and Rea Road
Vendors, trick-or-treat, bounce house, live music, more
Free
Northcross Tricks 'n Treats
October 28, 3:30 p.m. to 6 p.m.
NorthCross Shopping Center, 9709 Sam Furr Rd, Huntersville
This free family event, by the pond between Portrait Innovations and Taxco, features superheroes, pumpkins, creepy crawlies, face painting and lots of candy! Come dressed in your Halloween costume and get ready to enjoy some spooky fun! Proceeds from the pumpkin patch will go to the Autism Society of North Carolina.
Free
Trick-or-Treat at Carole Hoefener Center
October 28, 1 p.m. to 6 p.m.
The Carole Hoefener Center, 615 East 6th Street
Free
Howl-O-Ween Dog Costume Contest
October 28, 3 p.m. to 7 p.m.
NoDa Company Store, 3221 Yadkin Avenue
Bring your pet out in costume for a chance to win $150
Free
Monster Bash at Abari Game Bar
October 28, 5 p.m. until closing
Abari, 1721 North Davidson Street
Free play on all ghoul-ish games. DJ, costume contest. Age 21+
Free
Halloween Costume Party at NoDa Company Store
October 28, 7 p.m. to midnight
NoDa Company Store, 3221 Yadkin Avenue
Free
Plaza Midwood Fall Crawl & Cankerworm Festival
October 28, 11:30 a.m. to 7 p.m.
Plaza Midwood neighborhood
Kids' activities, live music, tree banding.
Free
Haunted Tour and Carnival at Ray's Splash Planet
October 28, 6:30 p.m. to 9 p.m.
Ray's Splash Planet, 215 N. Sycamore Street
Games, contests, trick-or-treating
$5 ages 4 and up
Trunk or Treat at Pleasant Valley Baptist Church
October 28, 5 p.m. to 7 p.m.
Pleasant Valley Baptist Church, 211 Marvin Road Indian Land, South Carolina
Free
Dia de los Muertos celebration at Trade and Lore Coffee
Saturday, October 28
8 a.m. until closing, while supplies last
Trade and Lore CLT, 2nd floor of Salud, at 3306 North Davidson Street
Food collaborations with Füd, candy apples, face painting (until 3 p.m.), mask making, music, more.
Free (food and drink for purchase)
Berewick Spooktacular
October 28, 1 p.m. to 4 p.m.
Berewick, 6625 Berewick Commons Parkway
Free bounce houses, train, raffles for adults (win an Apple Watch), pet costume contest. Lots of prizes and treats.
Free
Day of the Dead Celebration
October 29, 12 p.m. to 4 p.m.
Levine Museum of the New South, 200 East 7th Street.
Explore the Mexican tradition of Dia de Los Muertos, with activities, food, storytelling and altars.
Free
Great Elizabeth Pumpkin Wall
October 29-31
721 Clement Avenue
This is the 13th year of the Great Elizabeth Pumpkin Wall. Dozens of carved, illuminated pumpkins are on a huge display. They'll be lit Sunday, October 29th, at 7:30 p.m. and then will be lit through Halloween.
Free
Day of the Dead Festival at The Shoppes at University Place
Sunday, October 29
2 p.m. to 5 p.m.
The Shoppes at University Place, 8929 JM Keynes Drive
This free festival includes educational booths, music, arts and crafts, and performances.
Free
Red Clay Ciderworks Howl-o-Ween
Sunday, October 29
12 p.m. to 5 p.m.
Red Clay Ciderworks, 245 Clanton Road
Trick or treating for dogs, dog costume contest
Free
Downtown Concord Candy Crawl
October 31, 3 p.m. to 5 p.m.
Union Street, Concord
Trick or Treat at local businesses
Free
Boo HaHa
October 31, 5:30 p.m. to 7:30 p.m.
Fountain Park in Rock Hill, SC
Free trick-or-treating at more than 20 vendors, the Boo Ha-Ha Dance Party, our annual Costume Contest and meet The Carolina Ghostbusters (along with Ecto-1). Of of course you don't want to miss our Grand Marshall of the Festival "Maxx" the Robot (a full action 10 foot Robot)!
Free
Trick or Treat on Main Street (Fort Mill)
October 31, 5 p.m. to 7 p.m.
Main Street, Fort Mill, SC
Trick or treat with town merchants, costume contest, Monster Mash music
Free
Mall-O-Ween at Northlake Mall
October 31, 5 p.m. to 7 p.m.
Northlake Mall
Mall-wide trick-or-treating, live entertainment
Free
Mutt-ster Dash Halloween Dog Parade
October 31, 5 p.m. to 9 p.m.
Crown Station Coffee House and Pub, 3629 North Davidson Street
Bring your costumed dog to Crown Station on Halloween! They will be accepting anything dog related and/or cash as donations for great local rescues — Long Trails to Happy Tails Dog Rescue and Family Addition Dog Rescue of Charlotte. At 7 p.m., everyone will walk their dogs down to Dog Bar NoDa, 3307 North Davidson Street, and the judges will award the best dressed.
Free
Halloween Bash at Comic Girl Coffee
October 31, 6 p.m. to 10 p.m.
Comic Girl Coffee, 516 East 15th Street
Free drinks for anyone in costume. Séance! More…
Free
Opening Reception for Dia de Los Casi Muertos
Tuesday, October 31
6 p.m. to 11 p.m.
C3 Lab, 2525 Distribution Street
Dia de Los Casi Muertos (or Day of the Almost Dead) is an ongoing multimedia project that explores the cultural differences between Mexican and American experiences with death and aging. The opening reception features live music by Nouveau Sud.
Free
Closing ceremony for Dia de Los Casi Muertos
Friday, November 3
7:30 p.m. to 11 p.m.
C3 Lab, 2525 Distribution Street
Dia de Los Casi Muertos (or Day of the Almost Dead) is an ongoing multimedia project that explores the cultural differences between Mexican and American experiences with death and aging. The closing ceremony features live music from local bands, and a performance by XOXO.
Free