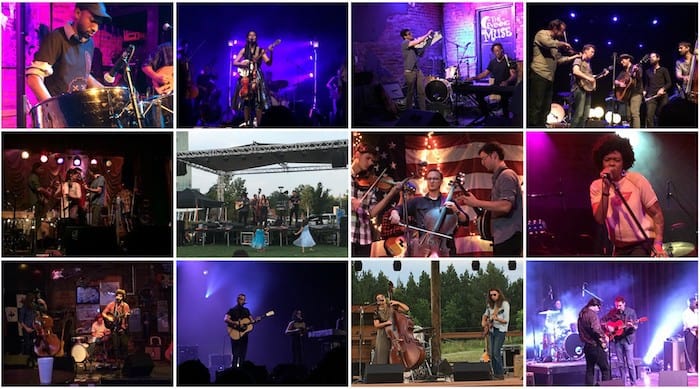 Charlotte live music is alive and kicking. Looking for concerts this weekend in Charlotte? This is your source for Charlotte concerts of all genres, including country, punk, hip hop, rock, folk and more. Find live music this week in Charlotte with this list of concerts at more than 20 music venues in Charlotte, from tiny dive bars to the biggest arenas. If we know that a show is sold out, we note that, or don't include the show, but we don't always know.
The ticket prices of shows on this list vary a lot. Many at small venues are under $10, but shows at larger venues can be much more. Check for discounts with Groupon.
This list goes from Monday, June 11th, to Wednesday, June 20. Scroll down for a list of the venues we cover, and their addresses, organized by area. At this time we're not including upcoming shows–just what's going on this week. So in some cases you might want to visit the websites of some of the venues to make sure you don't miss the chance to buy tickets to an upcoming show before it sells out. If your favorite venue is not listed here, please let us know, at info@charlotteonthecheap.com. But, just a note: we limit coverage to venues that publish their events on their website, well in advance.
Also scroll down for a list of free and cheap (mostly free) upcoming shows at places like breweries and coffee shops.
You might also be interested in:

Follow the links for the events to find out ticket prices, times, and information on the artists and shows, as well as to confirm the information you see here (we are not responsible for broken hearts), and to make sure the show isn't sold out. Make sure to verify if it's an all-ages show if that's important.
Live Music This Week in Charlotte
A note about prices: Obviously, not all of these are anywhere close to "cheap" but we're trying to provide a service of listing concerts from all venues. Also, with many shows, it's difficult to say exactly how much shows cost, because there's a range, and resellers' offers are included. Last, the service fees are usually not included in the price listed.
Monday, June 11, 2018
Tuesday, June 12, 2018
Wednesday, June 13, 2018
Thursday, June 14, 2018
Friday, June 15, 2018
Saturday, June 16, 2018
Sunday, June 17, 2018
Monday, June 18, 2018
Tuesday, June 19, 2018
Wednesday, June 20, 2018

Current Discounts on Upcoming Shows
Check Groupon for deals on upcoming shows. These will be mostly for shows at AvidXchange Music Factory venues and PNC Music Pavilion.
Free and cheap music
The following events are on Charlotte on the Cheap's calendar for the next 7 days. These music events are free and cheap (mostly free) and tend to be at places like breweries and coffee shops.

Monday, June 18, 2018
Tuesday, June 19, 2018
Wednesday, June 20, 2018
Thursday, June 21, 2018
Friday, June 22, 2018
Saturday, June 23, 2018
Sunday, June 24, 2018
Monday, June 25, 2018
Tuesday, June 26, 2018
Wednesday, June 27, 2018
Thursday, June 28, 2018

Charlotte Music Venues
NoDa
The Evening Muse
3227 N Davidson St
Neighborhood Theatre
511 E 36th St
Heist Brewery
2909 North Davidson Street
Crown Station
3629 North Davidson Street
Plaza Midwood
Petra's
1919 Commonwealth Avenue
Snug Harbor
1228 Gordon St
Rabbit Hole
1801 Commonwealth Ave
Midwood Guitar Studio
1517 Central Avenue
Uptown Charlotte
Spectrum Center
333 E Trade St
Knight Theater
430 South Tryon Street
McGlohon Theater
345 North College Street
Stage Door Theater
155 North College Street
Belk Theater
130 North Tryon Street
Tin Roof Charlotte
210 East Trade Street
Morehead Tavern
300 East Morehead Street
Elizabeth
Visulite Theatre
1615 Elizabeth Ave
Halton Theater (CPCC)
1206 Elizabeth Ave
East Charlotte/Independence Boulevard
Ovens Auditorium
2700 E Independence Blvd
Bojangles' Coliseum
2700 East Independence Boulevard
Tommy's Pub
3124 Eastway Dr
West/Southwest Charlotte
Coyote Joe's
4621 Wilkinson Blvd
The Milestone Club
3400 Tuckaseegee Rd
U.S. National Whitewater Center
5000 Whitewater Center Parkway
AvidXchange Music Factory
The Fillmore Charlotte
820 Hamilton Street
The Underground
820 Hamilton Street
Charlotte Metro Credit Union Amphitheatre
1000 NC Music Factory Blvd
South End
The Music Yard
2433 South Boulevard
University City
PNC Music Pavilion
707 Pavilion Blvd
Derita
Puckett's Farm Equipment
2740 West Sugar Creek Road
The Nile
5741 N. Graham Street
Concord
Davis Theatre
65 Union Street South, Concord
Regularly scheduled music events you should know about