UPDATE: Sheryl K.  is the winner of the 2 tickets! Everyone else, make sure to grab your tickets before the price goes up August 1st. They're only $25.
One Charlotte on the Cheap reader will win two tickets to Reevestock Music Festival. Keep reading to learn about the festival and how to enter the contest.
About the Festival
Reevestock Music Festival, which takes place on Friday, August 3rd, and Saturday, August 4th, 2018, is a small  family-friendly music festival in a beautiful setting just an hour from Charlotte.
This is possibly the most comfortable, relaxed music festival in North Carolina. According to Glide Magazine, "Everything you kind of hate about festivals doesn't happen here. Reevestock is the way festivals would be in an alternate, better universe." And "the quality of the musical lineup is way out of proportion to the festival's size." Elkin is just an hour north of Charlotte, straight up I-77.
The festival is the brainchild of the Charlotte-based folk/rock band Time Sawyer. It's a fundraiser to provide college scholarships to students in Elkin, NC, the hometown of three Time Sawyer band members.
The festival features eight bands, food trucks, wine, craft beer and free moonshine tasting.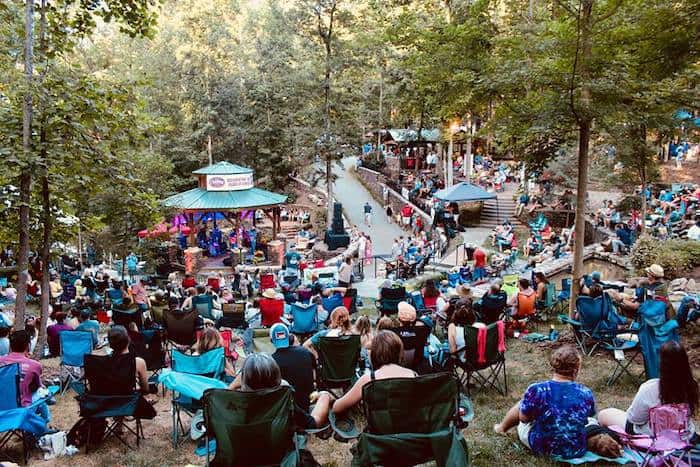 Day 1–Friday, August 3rd
Day 1, on Friday, August 3rd, takes place in Downtown Elkin. It kicks off with Todd Snider at The Reeves Theater. There are a very limited number of seats left for this show. 
Part two of Friday night is a free show featuring BraveWorldTrio at Angry Troll Brewing, also in downtown Elkin. BraveWorldTrio is a genre-bending live experience that will use any song as a launching point for exploration.
Day 2–Saturday, August 4th
Saturday, August 4th, 2018 is the main event. Reevestock offers the public a rare chance to visit and explore Elkin's Hidden Amphitheater, a privately owned entertainment venue in a wooded, park-like setting with rolling hills, a running stream, waterfalls, hammock chairs and swings. This is an extremely family-friendly festival.
The main event on Saturday features:
Tickets
You can get a combo ticket for Friday and Saturday for $45 through July 15th, for $50 through August 1st, or $60 on the day of the show.
Here's how to get the combo ticket: Go to this link to buy tickets to the Todd Snider show. After you choose all the seats you would like for Friday night's show, hit continue, then in the drop down "ticket type" box choose "FRI+SAT Combo". Then checkout.
Or you can get a ticket for the Saturday main event for $23 through July 15th, for $25 through August 1st, or $30 the day of the show. Four-pack tickets are available for $75. Buy Saturday passes here.
The Contest
Enter below to win two tickets to the main event on Saturday. Use your full name, so that you can pick up your tickets at the gate. The winner will be selected at random July 12th and will be notified by email. The winner will also be announced here on Charlotte on the Cheap. Please check your email and spam folder. If we don't hear back within 48 hours, a new winner will be selected.
The artists