In the warmer months, there's no shortage of opportunities to enjoy music outdoors, for free. Check out some of these concert series around the Charlotte area. Settings range from urban parks to shopping centers to museum lawns and much more. Click on the links to find the detailed schedule for each venue. In addition to these music series there are also free festivals that feature music. Make sure to subscribe to Charlotte on the Cheap so that you'll hear of these as soon as they're announced.
This is a work in progress because we've only included concert series that have published their band schedules, which you'll find by clicking on the links.
This list is organized by location. Scroll down to see a calendar of upcoming outdoor concerts, day by day.
You might also be interested in:
Uptown Outdoor Concerts
Bearden Music Series
June 30th, July 28th, August 25th, September 22nd
6 p.m. to 9 p.m.
Romare Bearden Park, 300 South Church Street
Party in the Park
Wednesdays May 30th through August 29th
6 p.m. to 9 p.m.
Romare Bearden Park, 300 South Church St.
Live on the Green
2nd and 4th Fridays of month, June 2nd through September 15th, with two additional dates on Saturdays
Usually 7 p.m. to 10:30 p.m. but two events have music throughout the afternoon too.
First Ward Park, 301 East 7th Street
High profile touring bluegrass and Americana bands, including Amanda Shires, Scythian, Donna the Buffalo and many more.
Music Box Lunch Series
Tuesdays and Fridays, April 3rd, through August 31st
Bearden Park, 300 South Church Street
Relaxed lunchtime music
Charlotte Alive After Five
Thursdays from April 5th to September 13th
5 p.m.
The EpiCentre, 210 East Trade Street
Picnic in the Park
Sundays, June through August
4:00 p.m. to 5:30 p.m.
Fourth Ward Park, 301 North Poplar Street
Sounds in the Square
Fridays, May 11 through August 31
7 p.m.
Outside Spirit Square, 345 N. College Street
Bring a lawn chair. Concessions will be available for purchase.
Midtown Outdoor Concert Series
Sunset at Metropolitan
Thursdays in May. The series usually picks up again in the fall.
5:30 p.m. to 8:30 p.m.
Metropolitan, 1111 Metropolitan Avenue.
NoDa Outdoor Concert Series
Live at the Family Tree
Mostly Saturdays, one Friday, in March, April and May
Shows start at 6 p.m., 7 p.m. or 8 p.m. Follow link above.
NoDa Company Store, 3221 Yadkin Avenue
West and Southwest Charlotte Outdoor Concert Series
Whitewater River Jam
Thursday, Fridays, Saturdays May 3rd through September 29th
7 p.m. to 10 p.m.
U.S. National Whitewater Center, 5000 Whitewater Center Parkway
Parking is $6.
Steele Creek Live
Thursdays, April 26th to May 31st
6 p.m. to 9 p.m.
Piedmont Social House, 2135 Ayrsley Town Boulevard
Music on the lawn in front of Piedmont Social House.
Ballantyne Outdoor Concert Series
Stonecrest Music at the Fountain
Fridays and Saturdays, April through September
7 p.m. to 10 p.m.
Blakeney Summer Music Series
Fridays and Saturdays, May 25th through August 28
7 p.m. to 10 p.m.
Ballantyne Rocks
Wednesdays in May
6 p.m. to 9 p.m.
Ballantyne Village, 14825 Ballantyne Village Way
South End Outdoor Concert Series
Spring Concert Series at The Music Yard
Saturdays April 7th through May 26th, along with Friday, March 23rd
6 p.m. to 11 p.m.
The Music Yard, 2433 South Blvd., between Mac's Speed Shop and SouthBound.
Two bands each night, plus a fun activity such as an art show, pop-up shop, or mixology lesson for you to enjoy while you listen. Follow above link to reserve your free ticket.
Dilworth Outdoor Concert Series
Freedom Summer Jazz Series
June 16th, July 14th, August 11th
6 p.m. to 9 p.m.
Freedom Park, 1900 East Boulevard
University City and North Charlotte Concert Series
Shoppes at University Place Spring Concert Series
Thursdays in April
6 p.m. to 9 p.m.
Shoppes at University Place, W.T. Harris Boulevard and Hwy. 29
Friday Nights at Camp North End
Fridays through the summer and early fall
5 p.m. to 9 p.m.
Camp North End, 1824 Statesville Avenue
One or more bands, food trucks, drinks from NoDa Company Canteen
East Charlotte Outdoor Concert Series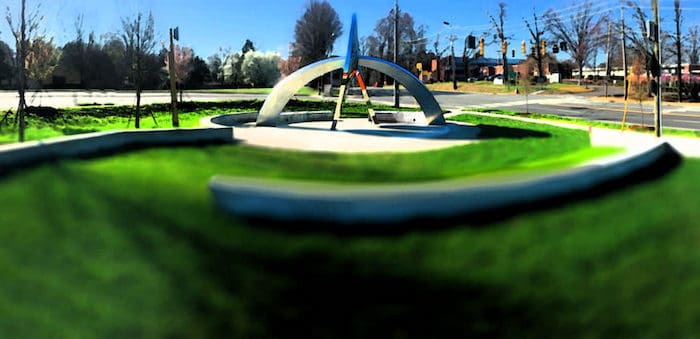 Thursdays Live
2nd Thursday of month, April to September
6 p.m. to 8 p.m.
Embrace Sculpture, 6697 Monroe Road
The 2nd Thursday of the month, from April to September, Monroe Road Advocates (MoRa) will present Thursdays Live, which will bring live music, art, food and craft beer to Monroe Road. Vendors slated for the family-friendly events include King of Pops (free for children) and their tasty ice pops, and Mister Twister, a popular creator of balloon art.
Matthews and Mint Hill Outdoor Concert Series
Matthews Food Truck Fridays
2nd and 4th Friday April through September, with the exception of May 11th.
Stumptown Park
200 South Trade Street, Matthews
There will also be kids' activities, lawn games, a beer pavilion and food trucks.
Check back soon for:
Cabarrus County Outdoor Concert Series
Kannapolis Summer Entertainment Series
Events include concerts, fireworks, movies, and stories for kids, held at a number of locations in Kannapolis. There is a huge amount of entertainment offered at different venues in Kannapolis. Follow the above link for the complete schedule.
Rockin' the Burg
2nd Saturday of May, August, September, October. 3rd Saturday of June.
Harrisburg Park, 191 Sims Parkway, Harrisburg
Two bands, food trucks, beer and wine garden
Gaston County Outdoor Concert Series
Friday Night Live Concert Series in Belmont
Two Fridays a month in May and June, plus the 4th of July
6 p.m. to 10 p.m.
Stowe Park, 24 South Main Street, Belmont
Check back soon for:
Summer concerts in Dallas
Downtown Gastonia Summer Concerts
Lake Norman Outdoor Concert Series
LangTree Live
Thursdays, May 3rd through September 27th
7 p.m. to 9 p.m.
LangTree Lake Norman, Mooresville
Lake Norman Summer Concert Series
Last Saturday in month, March through October
D9 Brewing Company, 11138 Treynorth Dr, Cornelius
Each event will include two bands and several food trucks.
Davidson's Concerts on the Green
Select Sundays, 6 p.m. to 8 p.m.
Davidson's Village Green
Birkdale Village Mingling on the Greens
Fridays and Saturdays, 7 p.m. to 9 p.m.
June 1 through August 25
Birkdale Village, 8712 Lindholm Drive, Huntersville
Upcoming Outdoor Music, by day
Saturday, April 6, 2019
Friday, April 12, 2019
Saturday, April 13, 2019
Saturday, April 20, 2019