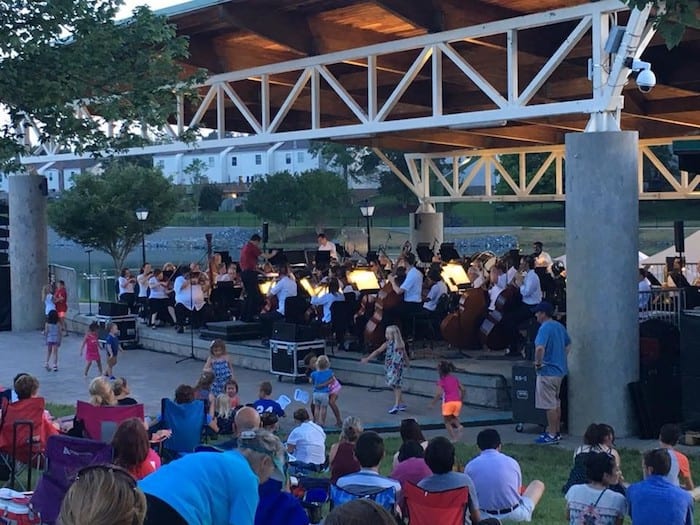 Pineville Parks and Recreation Department is once again offering a full summer entertainment schedule of free live music and movies. Pineville Rockin' and Reelin' Summer Concert and Movie Series will take place on various dates from June to September, 2018.  Concerts start at 7 p.m. and movies start at dusk (8 p.m. to 8:30 p.m.) with pre-movie entertainment at 7:15 p.m. There's also a live production by Matthews Playhouse in the mix.
Bring a lawn chair or blanket. Feel free to bring a picnic.
The entertainment series take place at Pineville Lake Park, 1000 Johnston Drive, Pineville.
Rockin & Reelin 2018
Friday, June 1
7 p.m.: Coconut Groove (variety music)
Food trucks
Inflatables
Friday, June 22
7:15 p.m.: Music: Steve Langely
Dusk: Wonder (movie)
Thursday, June 28
7 p.m.: Music: Mike S.
8:15 p.m.: Charlotte Symphony
Food trucks
Friday, July 13
7 p.m.: Red Dirt Revival (country music)
Food trucks
Inflatables
Friday, July 20
7 p.m.: Lion King Jr. by Matthews Playhouse
Friday, July 27
7:15 p.m. to 8:15 p.m.: A Zoo to You (petting zoo)
Dusk: Peter Rabbit (movie)
Friday, August 17
7 p.m.: Trial By Fire (Journey Tribute Band)
Food trucks
Inflatables
Friday, September 14
7 p.m.: The Entertainers (beach music)
Food trucks
Inflatables