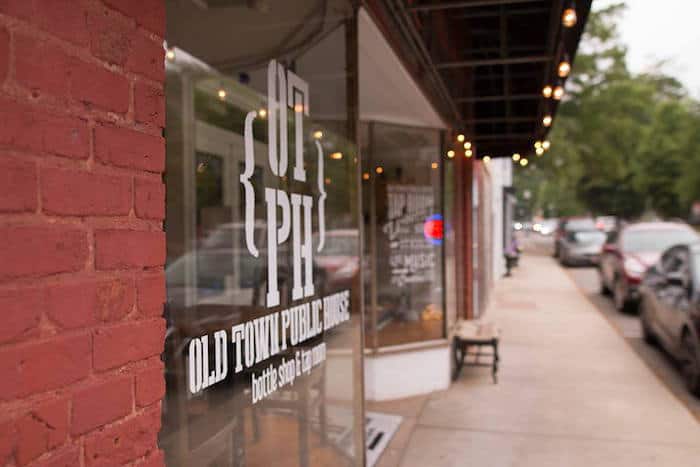 Old Town Public House, 21314 Catawba Avenue in Cornelius, specializes in coffee, espresso, craft beer, fine wines and live music. It's located in the heart of Old Town Cornelius. There's no cover for the live music, so make sure to stop by.
Please do tip the musicians, buy a drink, tip the bartender or barista, and maybe buy a CD if you like the music.
You can see all the upcoming events on Old Town Public House's Facebook page.
Here are some of them. Please follow the links to see if there have been any changes, and to learn more about the performers and events.
Monday Night Jam
Every other Monday
7:30 p.m.
OTPH Monday Night Jam is heating up the live entertainment scene with even more opportunities to hear crazy-good live music right here in the heart of Old Town!
Bring your original music or let's just jam every other Monday here at OTPH! We'll have the bass and percussion section held down by two of the area's finest – Glenn Goodnight & David Musiclover Gibson – so don't be hesitant to ask them to play your tunes! (and feel free to kick them off stage and hop on the those instruments yourself!)
***If you are interested in having the "house band" help play your music please send us a message before with your charts. You can also contact Glenn and David directly.
Upcoming dates: Feb 5, Feb 19, March 5, March 19, April 2, 16, 30
Thinkin' and Drinkin' Weekly Trivia
Tuesdays at 7:30 p.m.
Sunday Jazz Jam
Every other Sunday, from 6 p.m. to 9 p.m.
Upcoming dates: February 11, February 25, March 11, March 25, April 8, April 22
Be a part of the Jazz Experience that's making waves throughout #OTC! Hosted by Brian Burton (drums) & Scott McCloud (bass), the Sunday Jazz Jam is your one-stop-shop to enjoy some of the area's most talented & earthy improvisers on one stage!
Join us every other Sunday from 6-9 pm!
Musicians of all kinds are welcome and encouraged to participate! Drums, bass, guitar, sax, keys, harmonica, vocals… you name it! Just show up and let the magic happen…
Wax is Back–Vinyl Listening Party
Every other Monday, 7 p.m.
Upcoming dates: February 12, February 26, March 12, March 26, April 9, April 23, May 7, May 21
Every other Monday, come on down to the house for our vinyl listening party! Connect with local music lovers and bring your favorite records to share and show off!
Diggin' The Roots – Old Time Music
Every other Sunday
6 p.m.
Upcoming dates: February 18, March 4, March 18, April 1, April 15, April 29
More live music at OTPH
Thursday, February 22nd, 7 p.m.: The Brian Rigby Band
Friday, February 23rd, 8:30 p.m.: Justin Mintun Band
When
Weekly on Tuesday @ 7:30 pm (starting January 23, 2018)
When
Every 2 weeks on Monday @ 7:30 pm (February 5, 2018 - April 30, 2018)
When
Every 2 weeks on Sunday @ 6:00 pm-9:00 pm (starting February 11, 2018)
When
Every 2 weeks on Monday @ 7:00 pm (February 12, 2018 - May 21, 2018)
When
Every 2 weeks on Sunday @ 6:00 pm (February 18, 2018 - April 29, 2018)