Rockin' the Burg Community Concert Series is a free, family-friendly outdoor concert series that takes place at Harrisburg Park, 191 Sims Parkway, Harrisburg. They'll take place on the 2nd Saturday of the month, May through October, except in June, when it'll be on the 3rd Saturday. There's no Rockin' the Burg concert in July, but be on the lookout for the 4th of July Celebration.
You might also be interested in:
Rockin' the Burg features live music, food trucks, beer and wine garden, and art.
Food trucks will be on site from 5 p.m. to 9 p.m. and the beer and wine garden will be open 6:30 p.m. to 9 p.m.
August 11th food trucks:
Archie Boy's BBQ
Sal's Roadside Eatery
Sophie's Soul Food
Sugar Daddy's
The Hog N Dog
Whatza Spiedie,
Zaroob
​Sticks and Cones
Tikiz Shaved Ice
Bring your lawn chairs and blankets; pets on leashes are welcome; please pick up after your pets.
Scroll down for the highlights of each date, as well as a big list of upcoming food truck events in the Charlotte area.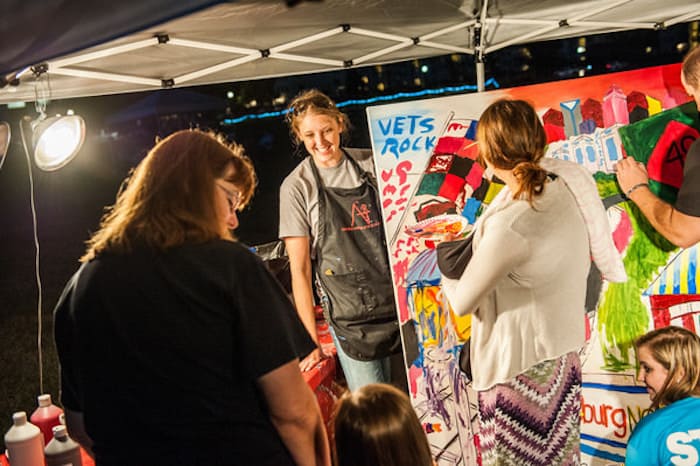 Saturday, May 12, 2018
6:30 p.m. – 9 p.m.: Beer & Wine Garden
(IDs will be checked at the ID station before you receive beer or wine service.)
6:30 p.m. – 7 p.m.: Opening Act
7 p.m. – 9 p.m.: Kids in America – Ultimate 80's Tribute Band
5 p.m. – 9 p.m.: Food Trucks on Site
Saturday, June 16, 2018
6:30 p.m. – 9 p.m.: Beer & Wine Garden
(IDs will be checked at the ID station before you receive beer or wine service.)
7:15 p.m. – 7:45 p.m.: Opening Act
8 p.m. – 9 p.m.: Charlotte Symphony Orchestra
5 p.m. – 9 p.m.: Food Trucks on Site
Saturday, August 11, 2018
6:30 p.m. – 9 p.m.: Beer & Wine Garden
(IDs will be checked at the ID station before you receive beer or wine service.)
6:30 p.m. – 7 p.m.: Opening Act
7 p.m. – 9 p.m.: The Catalinas
5 p.m. – 9 p.m.: Food Trucks on Site
Saturday, September 8, 2018
6:30 p.m. – 9 p.m.: Beer & Wine Garden
(IDs will be checked at the ID station before you receive beer or wine service.)
6:30 p.m. – 7 p.m.: Opening Act
7 p.m. – 9 p.m.: Darrell Harwood Band
5 p.m. – 9 p.m.: Food Trucks on Site
Saturday, October 13, 2018
6:30 p.m. – 9 p.m.: Beer & Wine Garden
(IDs will be checked at the ID station before you receive beer or wine service.)
6:30 p.m. – 7 p.m.: Opening Act
7 p.m. – 9 p.m.: Trial By Fire – Journey Tribute Band
5 p.m. – 9 p.m.: Food Trucks on Site
More Food Truck Events in the Charlotte area
Friday, August 24, 2018
Friday, August 31, 2018
Friday, September 7, 2018
Saturday, September 8, 2018
Friday, September 14, 2018
Saturday, September 15, 2018
Friday, September 21, 2018
Friday, September 28, 2018
Friday, October 5, 2018
Friday, October 12, 2018
Saturday, October 13, 2018
Friday, October 19, 2018