You can keep the music going all year with this list of Charlotte music festivals, plus music festivals within 100 miles of the Queen City. You can find festivals that feature folk, jazz, bluegrass, rock and everything in between. Many of these festivals are family friendly. Read on to learn the dates, locations, prices, and lineups for each one, as available. All details are subject to change.
While you're here, you might also be interested in:
August 3-4, 2018
Friday, August 3: Reeves Theater, 129 W Main St, Elkin
Saturday, August 4: Elkin's Hidden Amphitheater, 357 Ivy Circle, Elkin (free parking and shuttle off-site) (76 miles from Charlotte)
Saturday only: $23-$25 in advance, $30 at gate
Friday only: $25 in advance, $30 at door
Friday and Saturday: $40
Reevestock was founded by the Charlotte-based folk/rock band Time Sawyer, to benefit band members' home town of Elkin. The Friday night kick-off event, at the Reeves Theater in downtown Elkin, features Todd Snider, and then the night continues at Angry Troll Brewing with BraveWorldTrio in a free show. The main event, on Saturday, is a relaxed, family-friendly festival in an idyllic park-like setting. There's lots of shade, plenty of space and a kids' zone. Saturday features the Eric Krasno Band, Time Sawyer, Caleb Caudle, Cordovas, The Broadcast and Dane Page.
August 18, 2018
2500 N Cannon Blvd, Kannapolis (32 miles from Charlotte)
Free
Rockabilly bands, car show, pin-up contest, vintage vendors, swing dancing, food trucks.Jem Crossland & the Hypertonics, Mystery Hillbillies, Slippery Jake and the Bad Brakes.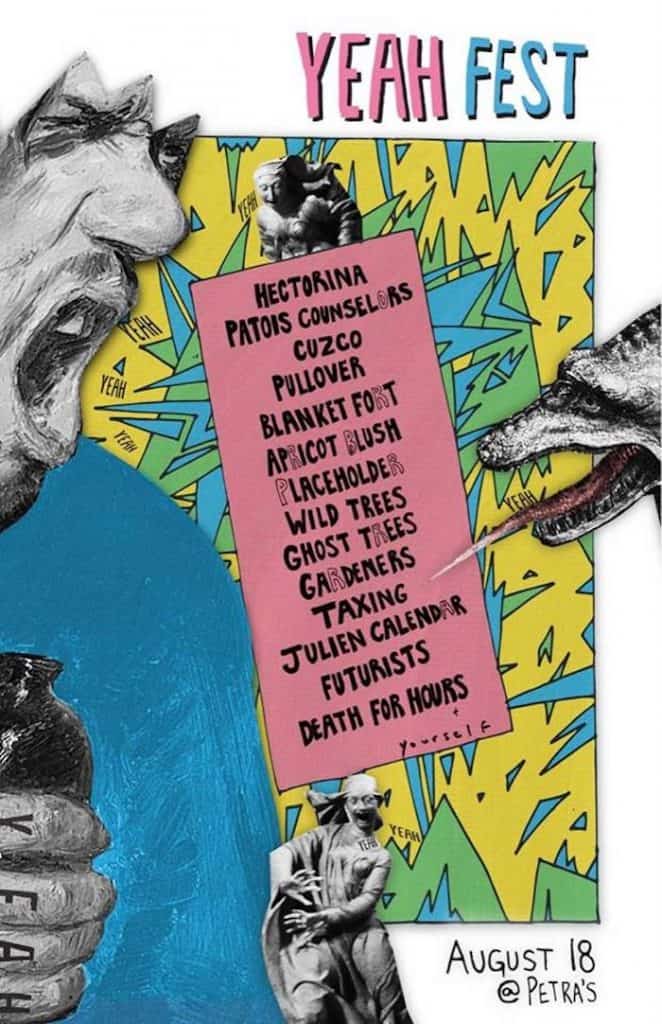 August 18, 2018
Petra's, 1919 Commonwealth Avenue
Presale: $10 (Under 21: $12)
Day of show: 13 (Under 21: $15)
Yeah Fest highlights the Charlotte music community and is a fundraiser for OurBridge. Performers: Hectorina, Patois Counselors, Cuzco, Pullover, Blanet Fort, Apricot Blush, Placeholder, Wild Trees, Ghost Trees, Gardeners, Taxing, Julien Calendar, Futurists, Death for Hours

September 1-2, 2018
Oak Hollow Festival Park
1841 Eastchester Dr, High Point (87 miles from Charlotte)
One-day admission: $70 ($25 for students)
Two-day admission: $120 ($50 for students)
Performers: Gregory Porter, Lee Ritenour, Jazzmeia Horn, Dirty Dozen Brass Band, Pete Escovedo Orchestra Featuring Sheila E, Dianne Reeves, Ravi Coltrane, Coltrane Allstar Band, more.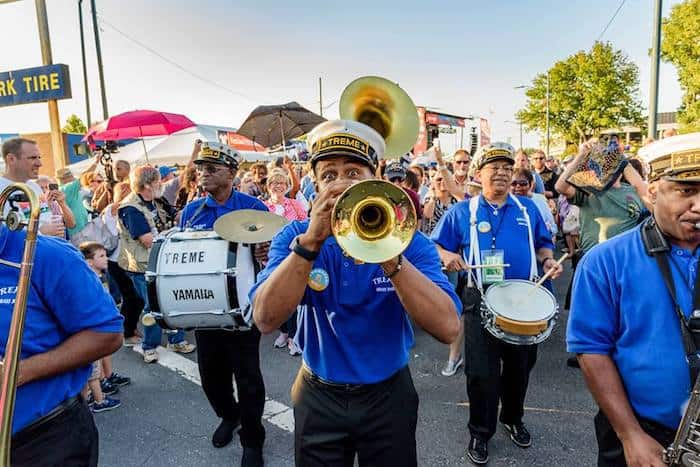 September 7-9, 2018
Downtown Greensboro (92 miles)
Free
This annual festival features a wide range of regional, national and international artists from countless musical traditions.
Performers: Indrajit Roy-Chowdhurty & Naren Budhkar, John Jorgenson Quintet, Kristyn Harris, Nathan & The Zydeco Cha Chas, Rhiannon Giddens, Shashmaquam, The Embers featuring Craig Woolard, The Fitzgeralds, Trio Brasileiro, Viento de Agua, more.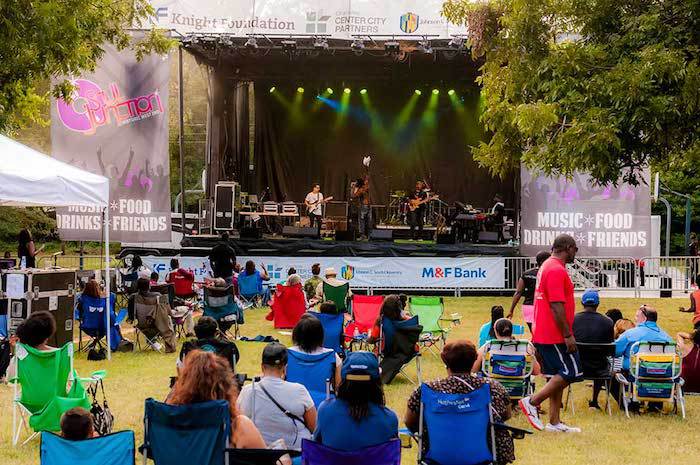 September 14-15, 2018
Johnson C. Smith University Campus
This free festival honors the musical traditions of the Historic West End of Charlotte and provides a spotlight for the young artists of today. The festival is produced by the Historic West End Initiative, Center City Partners, Knight Foundation and JCSU.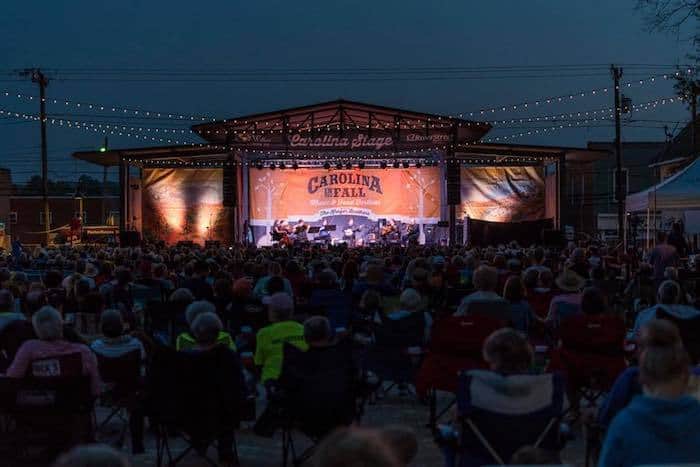 September 21-22, 2018
Downtown Wilkesboro (86 miles)
Hosted by the Kruger Brothers, this festival features folk music and bluegrass, as well as events like the North Carolina Banjo Championship, the Bobby Martin Songwriting Competition and more.
Performers: Kruger Brothers, The Steel Wheels, The Roosevelts, Fireside Collective, The Contenders, Snyder Family Band, Arcadian Wild, Nikki Talley.
September 28-29, 2018
VanHoy Farms, 742 Jericho Rd, Harmony, North Carolina (57 miles from Charlotte)
One day pass: $35
Weekend pass: $55
Carolina Jubilee is a music and food festival dedicated to raising funds to support the Carolina Farm Trust's mission: protecting farm land and fostering an ecosystem of sustainable farming in North and South Carolina. The sounds vary from blues and funk to Americana and folk.
Performers: Susto, Acoustic Syndicate, The Way Down Wanderers, Dangermuffin, Moses Jones, Groove 8, Get Right Band, Big Daddy Love, Swim in the Wild, Leah Shaw, Paper Crowns, Sinners and Saints, She Returns From the War, Courtney Lynn & Quinn, Maggie Valley Band, Business People
September 29, 2018
Main & Hampton Streets, Columbia, SC (92 miles from Charlotte)
Free
One day music festival. 12 band, 2 stages. Lineup is not published yet.
September 21-23, 2018
Freedom Park, 1900 East Blvd, Charlotte
Free
Festival in the Park is Charlotte's oldest festival. It's in its 54th year. It's a celebration of both art and music, with art vendors circling the pond and performers on five stages.
Main stage performers: Carolina Dare, English, Jade Moore, Moses Jones, Pam Taylor, Nitara Reaves, Jeremy's 10, The Spongetones, Tiffany Ashton, Charlotte Youth Symphony, Kyle Petty.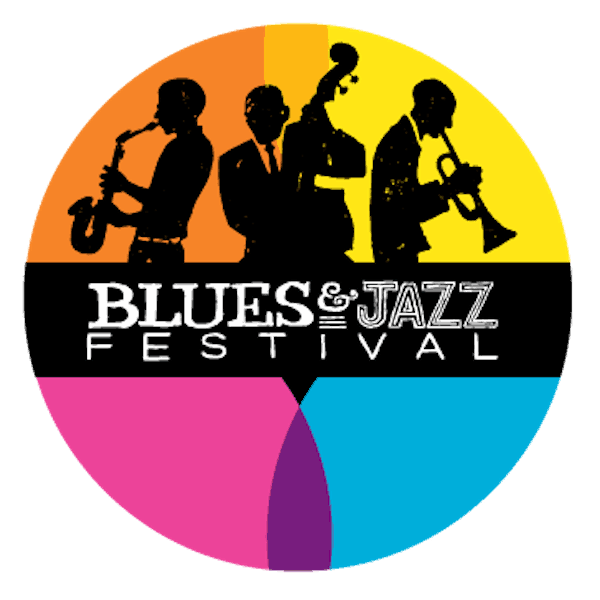 October 3-4, 2018
Various locations in York County, SC
Check back soon for details
October 20, 2018
Camp North End, 1824 Statesville Avenue, Charlotte
Free
Charlotte's first Black Alternative Music Festival. 2018 will be its second year. Lineup is not announced yet.
2019 Festivals
These annual festivals take place the first few months of the year. If the dates haven't been announced yet, we're listing the month that they took place in 2018. We'll update details when available.
Tuck Fest (Charlotte) April, 2019
Earth Day Jam (Salisbury) April, 2019
Reverb Fest (Charlotte) April, 2019
Boom Charlotte (Charlotte) April, 2019
Charlotte Jazz Festival (Charlotte) April, 2019
Merlefest (Wilkesboro) April 25-28, 2019
River Rocks Music Festival (Columbia, SC) April, 2019
Carolina Rebellion (Concord) May, 2019
North Carolina Brewers and Music Festival (Huntersville) May, 2019
Carolina Blues Festival (Greensboro) May, 2019
Fiddler's Grove (Union Grove) May, 2019
Memorial Day Celebration at U.S. Whitewater Center (Charlotte) May, 2019
We've Got the Jazz Festival (Charlotte) June, 2019
Grover Fest (Union Grove) June, 2019
Charlotte New Music Festival (Charlotte), June, 2019
Don't Sweat It Fest (Rock Hill, SC), June, 2019
U.S. National Whitewater Center 4th of July (Charlotte), July, 2019
Barnstock (Charlotte), July, 2019
Chickweed (Salisbury), July, 2018