The U.S. National Whitewater Center, 5000 Whitewater Center Parkway, is hosting what will be one of Charlotte's most popular 4th of July festivals again this year. Taking place Tuesday, July 3rd, 2018, and Wednesday, July 4th, the festival will include outdoor adventure activities, Yoga, live music and fireworks.
The festival is free and so is the yoga. Parking is $6 per car, and the land and water activities are regular price.
Click on the below map for a closer view of where everything is.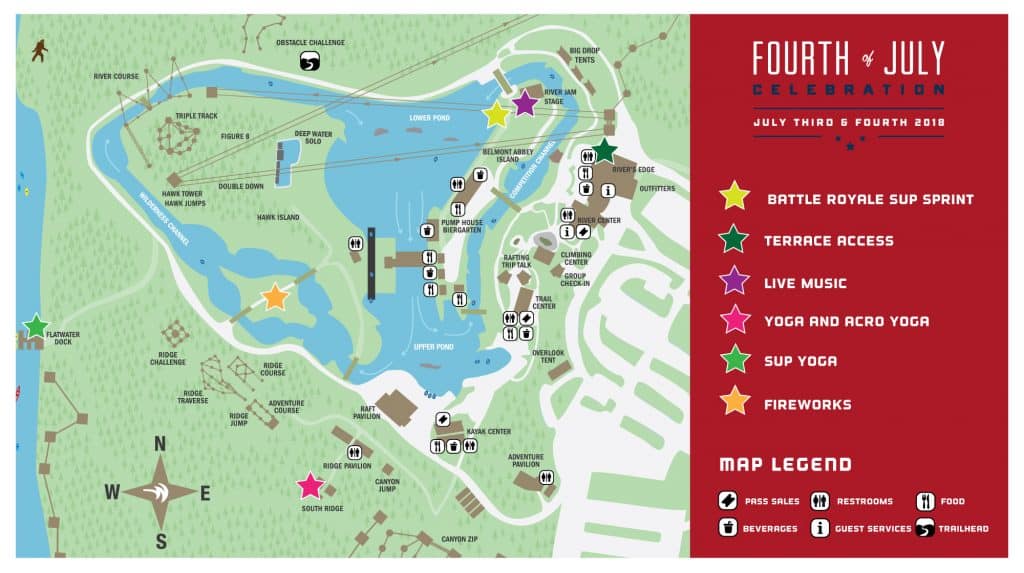 U.S. National Whitewater Center 4th of July Celebration Schedule
SCHEDULE:
Tuesday, July 3, 2018:
Wednesday, July 4, 2018:
More 4th of July fireworks and celebrations
See a big list of Charlotte fireworks. Or look at a day-by-day list of 4th of July events:
Saturday, June 23, 2018
Thursday, June 28, 2018
Friday, June 29, 2018
Saturday, June 30, 2018
Sunday, July 1, 2018
Monday, July 2, 2018
Tuesday, July 3, 2018
Wednesday, July 4, 2018
Thursday, July 5, 2018
Friday, July 6, 2018
Saturday, July 7, 2018
Sunday, July 8, 2018
Saturday, July 14, 2018