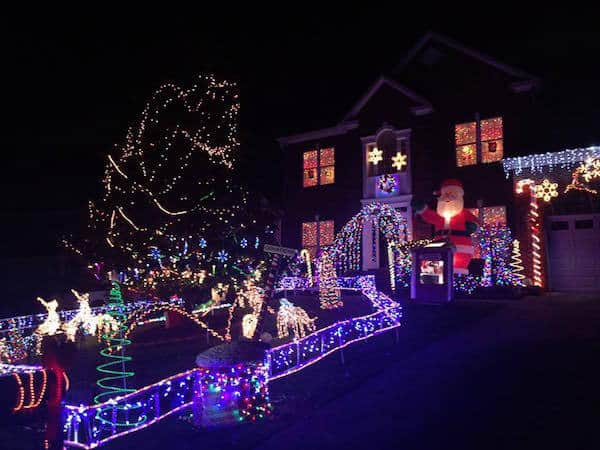 Looking for the biggest, best Christmas lights in the Charlotte area for the 2017 Christmas season? Here's what you have to look forward to.  All these displays, often synchronized to Christmas music, are put on by regular people, at their own expense, and it takes an incredible amount of time and creativity. So visit and let them know you appreciate it. Some are collecting money for charitable causes. If a radio station is listed, tune your car radio to that station to listen to the coordinated music. Please be considerate of these folks' neighbors.
If a website or Facebook page is listed, make sure to visit and check out the hours, start dates, and any additional information that you need to know. Most of these displays start shortly after Thanksgiving. Some families show videos and pictures of their works in progress as well.
Do you know of a light display that should be included in the list? Please send information to jody@charlotteonthecheap.com. I'll need to see a website or Facebook page so that I know the homeowner wants the information shared.
You might also be interested in:
McAdenville's famous Christmas lights will be turned on Friday, December 1st, 2017, and will be lit every night through December 26th. The above link also includes information on the lighting ceremony December 1st, and the Yule Log Ceremony and parade December 15th. McAdenville is in Gaston County, a short drive from Charlotte. The lines can be long to get into the town. Follow the above link for some information on avoiding the lines.

Garden Oak Holiday Lights
4026 Garden Oak Drive, Indian Trail, NC 28079
Brandon Oak Subdivision (94.5 FM)
Donations collected for The National Foundation for Cancer Research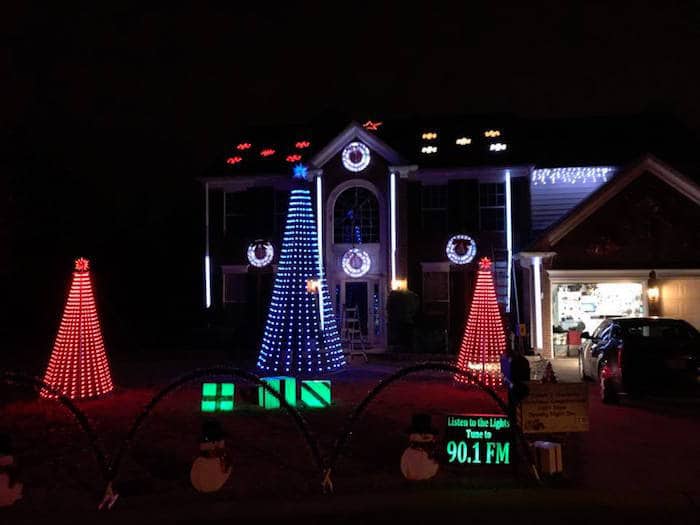 Fallatt Charlotte Christmas
3801 Maple Forest Ct.
Sun-Thur 6 p.m. – 10 p.m.
Fri-Sat 6 p.m. – 11 p.m.
Listen on 90.1 FM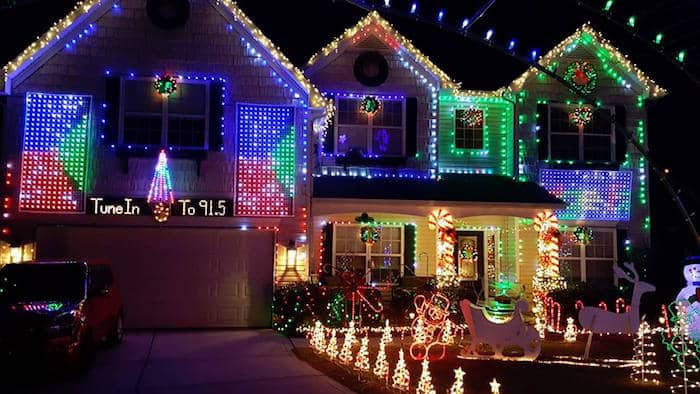 Hard Family Christmas Lights
1641 Shadow Creek St , Concord
5:30 p.m. to 10 p.m.
Listen on 91.5 FM
A Sweitzers Christmas
1001 Sunnyview Circle Matthews, NC 28105 (107.3 FM)

Fountainbrook Fallatts
1028 Fountainbrook Dr. Indian Trail, NC 28079
Accepts donations for Union County Christmas Bureau

Zimnowski Light Show
15419 Hugh Mcauley Rd. Huntersville, NC 28078 (87.9 FM)
Harbin Family Christmas Lights
10223 Summer House Court
Accepts donations for Make-A-Wish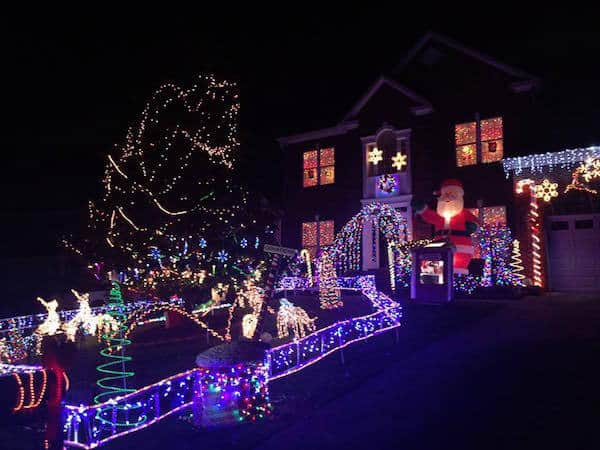 Nikitas' Christmas Wonderland
1417 Deer Spring Court, Indian Trail, NC
Accepts donations for Hemby Children Hospital

Christian Family Lights in Concord
Winding Walk subdivision in Concord, NC. Send them a personal message on the Facebook page to get the address. From Sunday to Thursday it's 5:30 p.m. to 9:00 p.m. Friday and Saturday it's 5:30 p.m. to 10:00 p.m..

Hillside Avenue in Myers Park
The neighborhood has a tradition of creating chicken-wire Christmas balls and hanging them from tall trees. It's very impressive.
Accepts cash or food donations for Loaves and Fishes. On weekends, donors get free hot chocolate. Follow Hillside on Facebook.

Sherwood Forest Drive (off Colony Road)
There are several big displays in neighborhood, especially 7323 Sherwood Forest Drive. In past years, Santa was outside handing out candy canes. There was Christmas music and a collection for St. Jude's Children's Hospital.
Harrison Christmas Light Show
Harrison United Methodist Church, 15008 Lancaster Hwy, Pineville
Tradition show: 7 p.m. and 8 p.m.
Rocking show: 7:30 p.m. and 8:30 p.m.
You might also be interested in these upcoming holiday events: