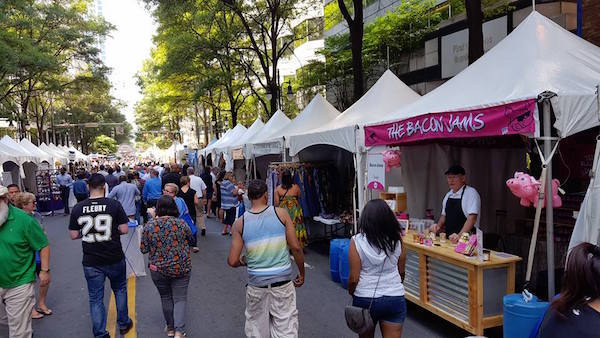 Shop for gifts at these holiday markets in Charlotte and surrounding areas. Here's a large and growing list of Christmas markets, church bazaars, crafts markets, arts markets and more.
Know of more that should be on this list? Please email us at jody@charlotteonthecheap.com. Please include a link to where it's listed. We'll see it faster that way than if you leave a comment to this post.
Annual Holiday Craft Fair
Saturday, November 4
9 a.m. to 3 p.m.
Levine Senior Center, 1050 DeVore Lane, Matthews
Over 35 vendors featuring handmade items, a bake sale, basket raffle, and book sale. This event is free to the public. Lunch is available for purchase.
Free
Front Porch Sundays
Sunday, November 5
12 p.m. to 5 p.m.
Shook Kelly, 2151 Hawkins Street
More than 50 tented vendors, plus popup shops and live music. Get a jump on your holiday shopping.
Free
Southern Christmas Show
November 9-19
Sundays, Monday and Tuesday: 10:00 a.m. – 6:00 p.m.
All other days: 10:00 a.m. – 9:00 p.m.
The Park Expo and Conference Center, 800 Briar Creek Rd
500 hand-selected merchants, plus exhibitors and entertainment. Get a picture with Santa for $10.
Adults: $12 (Save $2 by purchasing ticket online)
Children ages 6 – 12 (At the door & Advance Online) $3
Children ages 5 & under free with a paying adult
Highland Creek Holiday Bazaar
Saturday, November 11
10 a.m. to 2 p.m.
Cox Mill Elementary School, 1450 Cox Mill Rd, Concord
Free shopping tote for the first 250 shoppers. 60+ vendors for all of your holiday shopping needs.
Matthews Arts and Crafts Extravaganza
Saturday, November 18
9 a.m. to 3 p.m.
Matthews United Methodist Church, 801 South Trade Street, Matthews
85 Homemade Vendors
Press Day Holiday Pop-Up
Saturday, November 18
6 p.m. to 8:30 p.m.
Advent Coworking, 933 Louise Avenue
Brand Experience features a specially curated showcase of the city's best vendors' vintage clothing, art, home goods, fashion designers, hand-made beauty products, organic candles, photography, collectibles and more.
Free, but please bring a canned good donation.
Saint Mark Christmas Bazaar
Saturday, November 18
8:30 a.m. to 3:30 p.m.
St. Mark Catholic Church, 14740 Stumptown Rd, Huntersville
Free goody bags will be given to the first 500 attendees. There will also be raffles, handmade crafts, and more than 60 booths.
Admission: $1 per adult
Starving Artist Market
Saturday, November 18
1 p.m. to 6 p.m.
Lenny Boy Brewing, 3000 South Tryon Street
Bath products, jewelry, candles, accessories, beadwork, silk screening, wood work, prints, paintings, carvings, gift sets, bakeries, chocolate, pottery. A Bao Time Food Truck
Free admission
The Vintage Charlotte Winter Market
Saturday, November 18
11 a.m. To 5 p.m. Early bird entry at 10 a.m.
The Fillmore, 820 Hamilton Street
Unique gifts. Food and drink vendors will be on site.
Admission: $2. Early bird admission: $7.
Historic South End Small Business Saturday
Saturday, November 25
11 a.m. to 5 p.m.
Three huge pop-up markets around the Historic South End, with a free holiday trolley to take you between them.
Free admission
Wilson's Dudapalooza Market
Saturday, November 25
11 a.m. to 5 p.m.
C3 Lab, 2525 Distribution Street
Guy-centered pop-up market. Part of Historic South End Small Business Saturday. Free trolley will take you between the various markets.
Free admission
Charlotte Christmas Village
November 23 – December 24
11 a.m. – 7 p.m. Tuesday – Wednesday
11 a.m. – 9 p.m. Thursdays – Saturday
12 p.m. – 6 p.m. Sundays
Closed Mondays
Romare Bearden Park, 302 South Church Street
Vendors, food and drinks, and live entertainment
Free Admission
Winter Wonderland Craft Fair
Saturday, November 25
9 a.m. to 4 p.m.
Dairy Barn, 288 Dairy Barn, Fort Mill
Handmade items including pottery, quilts, handbags, children's clothing, woodwork, soap, and candles will be sold along with raffles throughout the day.
Admission is free with a $5 parking fee.
Hot Stuff Holiday Pop Up Market
Sunday, November 26
11 a.m. to 4:30 p.m.
Petra's Bar, 1919 Commonwealth Avenue
Local food, crafts, artisans, and mimosas, bloody marys.
Free admission
Mingle at the Mint
Wednesday, November 29
6 p.m. to 9 p.m.
Mint Museum Randolph, 2730 Randolph Road
Your free general admission ticket includes entry to the pop-up shop and a special viewing of "Charlotte Collects: Contemporary Couture and Fabulous Fashion" exhibit in the Mint's galleries." Upgrade to a VIP ticket for $15 and receive 2 drink tickets and a swag bag.
Poptopia–A Pop-Up Shop in Uptown Charlotte
Wednesday, November 29, through Saturday, December 2
Wednesday, November 29th: 11 a.m. to 8 p.m.
Thursday, November 30th: 11 a.m. to 9 p.m.
Friday, December 1st: 11 a.m. to 8 p.m.
Saturday, December 2nd: 9 a.m. to 8 p.m.
Sonia & Isaac Luski Gallery in Foundation for the Carolinas, 220 North Tryon Street
Check out great local shops from men's and women's clothing, to jewelry and accessories, to Charlotte-specific gifts. While you're shopping, enjoy food, drink and live music.
Free admission
Christmas in Davidson
November 30, December 1 and 2
6 p.m. to 9 p.m.
Admission is free
The Olde Mecklenburg Brewery‎ Weihnachtsmarkt
December 1, 2, 8, 9, 15, 16
On Fridays it will run from 4 p.m. to 9 p.m., and on Saturdays from 2 p.m. to 9 p.m. The brewery closes at 11 p.m. both nights.
Olde Mecklenburg Brewery, 4150 Yancey Road
For three weekends in December, Olde Mecklenburg Brewery will transform into a German-inspired Christmas Market, with vendors selling gifts and baked goods from open-air booths.
Free admission
Prosperity Village Winterfest and Market
December 2
11 a.m. to 6 p.m.
5336 Docia Crossing
Music, vendors, Santa visit, more
Free
ECW Christmas Bazaar and Pop-Up Shop
Saturday, December 2
9:30 a.m. to 1 p.m.
Christ Episcopal Church, 1412 Providence Rd.
Vendors, handcrafted gifts, holiday greenery, Christmas decorations and homemade foods
Free
Annual Christmas Vendor Fair
Saturday, December 2
10 a.m. to 2 p.m.
Covenant Church Harrisburg, 6900 Hickory Ridge Rd, Harrisburg
Lots of vendors, a gift wrapping station (feel free to bring gifts from home to have wrapped), Hot Cocoa, Music, Hotdog Plates, more
Queen City Christmas Expo
Saturday, December 2
1 p.m. to 6 p.m.
The Carole Hoefener Center, 615 East 6th Street
50 vendors, free giveaways, face painting, visits with Santa, more
Free
Cuthbertson Band Holiday Bazaar
Saturday, December 2
9 a.m. to 3 p.m.
1400 Cuthbertson Rd, Waxhaw NC 28173
7th Annual Cuthbertson Band Holiday Bazaar. Over 90 local vendors and artisans.
Free admission
SHiFT Holiday Pop Up Market & Psychic Fair
Saturday, December 2
11 a.m. to 5 p.m.
Lenny Boy Brewing Co., 3000 South Tryon Street
Vendor market, psychic fair, kids' area
Christmas in Cabarrus Holiday Market
Saturday, December 2
12 p.m. to 5 p.m.
Cabarrus Brewing Company, 329 McGill Ave NW, Concord
40+ local vendors
Free
26 Acres Holiday Pop-up
Friday, December 8, 4 p.m. to 10 p.m.
Saturday, December 9, 1 p.m. to 7 p.m.
26 Acres Brewing Company, 7285 Westwinds Blvd NW, Concord
Free
Kannapolis Holiday Market
Saturday, December 9
9 a.m. to 5 p.m.
Kannapolis City Hall, 401 Laureate Way, Kannapolis
Shop for gifts before or after the Christmas parade from many vendors and artists.
Admission is free
Midwood Market and Holiday Central
Sunday, December 10
11 p.m. to 6 p.m.
Plaza Midwood neighborhood
Local artists, vendors, dance and music performances. Pictures with Santa. Skating demos. Tree lighting at 6:30 p.m. at Pizza Peel, 1600 Central Avenue.
Free
Finders Keepers Market
Sunday, December 10
11 a.m. to 6 p.m.
NoDa Brewing Company, 2921 North Tryon Street
Free
NoDa Starving Artist Market
Saturday, December 16
12 p.m. to 4 p.m.
Canvas Tattoo & Art Gallery, 3012 N Davidson Street
Holiday pop-up market. Hand-made vendors only
Admission is free
Holiday Market at Charlotte Art League
Sunday, December 17
10 a.m. to 4 p.m.
Charlotte Art League, 1517 Camden Rd
Admission is free
Haylo's 3rd Annual Solstice Market
Sunday, December 17
1 p.m. to 5 p.m
Haylo Healing Art Lounge, 1111 Central Avenue
Admission is free