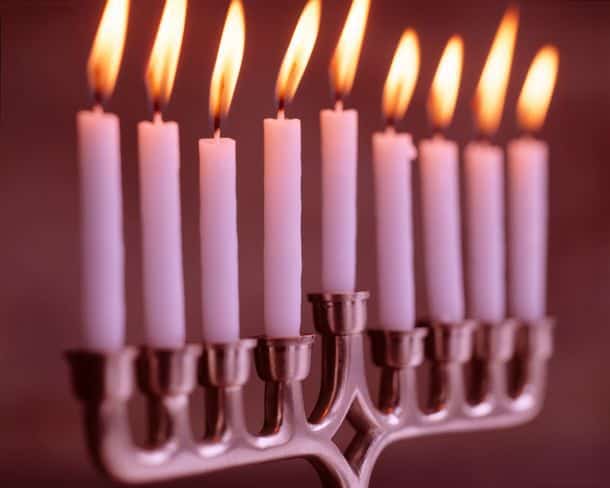 Several organizations are presenting Hanukkah celebrations for the community. These events are  family friendly and most are free. Links will be included when they are available.
Hanukkah begins the evening of Sunday, December 2nd, 2018, and ends the evening of Monday, December 10th.
        You might also be interested in:
Car Menorah Parade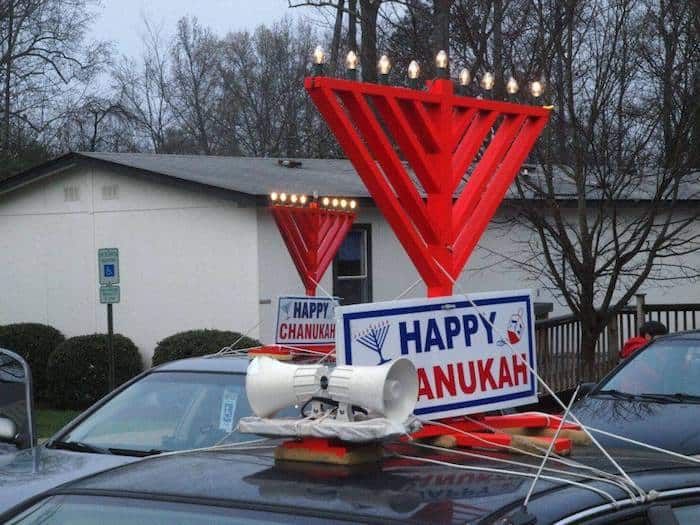 Car Menorah Parade
Sunday, December 2nd, 2018
4 p.m.
Free
At 4 p.m. the parade will leave from 6619 Sardis Road and head to SouthPark Mall, for the Giant Menorah Lighting event at 5:30 p.m. Giant orange Menorahs wil be mounted on top of cars, and music drones hovering above the parade will play Hanukkah songs.
Menorah Lighting at SouthPark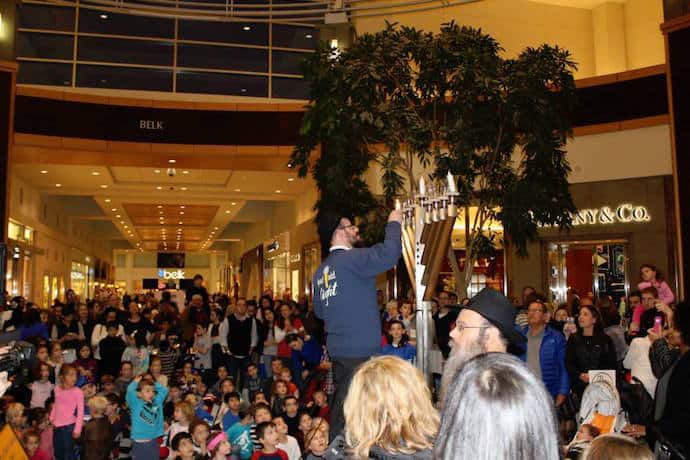 Giant Menorah Lighting at SouthPark Mall
Sunday, December 2nd, 2018
5:30 p.m.
Free
This celebration is brought to you by Chabad of Charlotte and includes entertaining activities for kids, traditional Hanukkah treats (free of charge), music. The giant Menorah will be lit at 6 p.m.
Ice Menorah at StoneCrest
Hanukkah at StoneCrest, featuring an Ice Menorah
Monday, December 3rd, 2018
5 p.m.
7800 Rea Road
Free
Ballantyne Jewish Center is bringing a Hanukkah celebration to The Fountain Plaza at StoneCrest Shopping Center. The celebration will include the lighting of a giant Ice Menorah, Hanukkah games, activities, crafts, hot drinks, doughnuts and latkes (potato pancakes.)
Menorah Lighting in Downtown Waxhaw
4th Annual  Menorah Lighting in Waxhaw
Tuesday, December 4th, 2018
5:30 p.m.
E. North Main Street, at Overhead Bridge, Downtown Waxhaw
This event always includes children's activities, as well as the Menorah lighting.

Hanukkah Party in Cornelius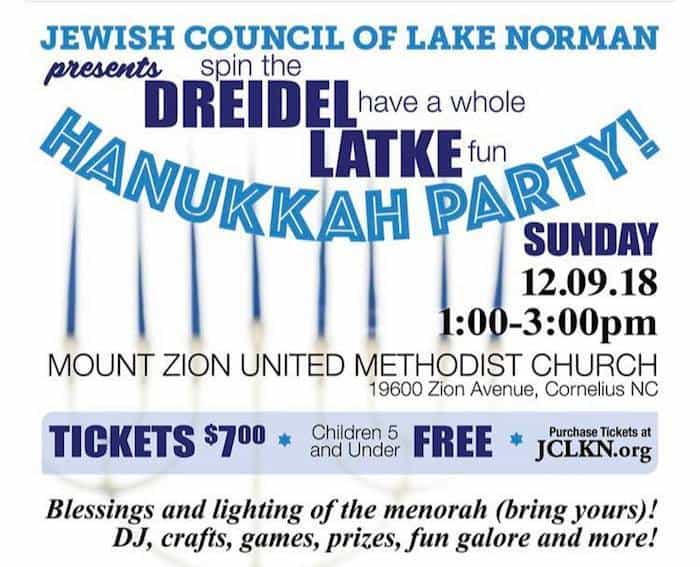 Community Hanukkah Party
Sunday, December 9th, 2018
1 p.m.
Mount Zion United Methodist Church, 19600 Zion Avenue, Cornelius
$7 (Children under 5 are free)
The event includes lighting the Menorah (bring yours if you have one), DJ, games, crafts, prizes, lunch, jelly donuts and latkes.
When
December 2, 2018 @ 4:00 pm-5:00 pm
When
December 2, 2018 @ 5:30 pm
When
December 3, 2018 @ 5:00 pm
When
December 4, 2018 @ 5:30 pm
When
December 9, 2018 @ 1:00 pm
Where
Mount Zion United Methodist Church
Downtown Waxhaw
waxhaw, NC