Uptown Charlotte turned on the holiday lights and instantly become a festive destination. Within easy walking distance of each other are three towering Christmas trees, a Christmas market, outdoor ice skating, plenty to eat and drink, and, of course, an orchestra of animatronic bears.
Want to see it all (or at least a lot of it) in one night? We planned out a two-mile walk and tested it ourselves. Put on your comfortable shoes and try it yourself!
You might also be interested in:
Some of the destinations are just for a quick look and others are places you'll want to spend some time. We did this walk at night time, to see the lights. Much of it would be enjoyable during the day as well. Make sure to check the times for everything and to follow links for updates.
Everything on this tour is free to see. Just pay for food, drink and ice skating. Maybe bring a couple bucks for the busking musicians?
Scroll down for a Google map that shows all the destinations. It'll help you map out the route that's best for you.
Need to park? Here's a parking map from Center City Partners. You can park in several garages after 5 p.m. for just $5.
Carolina Panthers Christmas Tree
Outside Bank of America Stadium, at Mint and Graham Street
Charlotte Christmas Village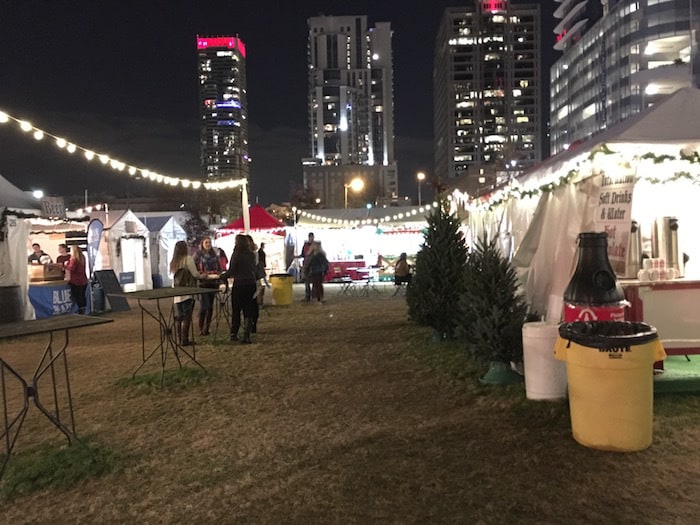 Romare Bearden Park, 300 South Mint Street
Tuesdays and Wednesdays: 11 a.m.to 7 p.m.
Thursdays through Saturdays: 11 a.m. to 9 p.m.
Sundays: Noon to 6 p.m.
Mondays: Closed
Open through Christmas Eve
Last year the village was a little sparsely populated, but this time around, it's much improved, with more vendors, entertainers and special events.
Pro tip: Get the spinach puff pastry from the strudel stand.
More information on Charlotte Christmas Village, including the schedule for Santa visits and entertainers.
Thomas Polk Park
105 North Tryon Street

The Square
100 North Tryon Street


Thomas Polk Park, The Square and Founders Hall are all at the Trade and Tryon intersection. Polk Park is kitty-corner from Founders Hall and The Square.
Founders Hall

100 North Tryon Street
Inside Founders Hall, the Leonard Bearstein Symphony Orchestra performs on the hour. This ensemble, made up entirely of animatronic bears, is a long-standing and much-loved Charlotte tradition. The bears will be performing daily through December 28th, with some exceptions. Time varies.
Ritz Carlton

Holiday Wonderland at Ritz Carlton
201 East Trade Street
Visit any time
The lobby of the Ritz Carlton is all decked out. Three trees are decorated with almost 10,000 macarons (above.) Here's a close-up view.
You can't miss the 12-foot wide gingerbread house, complete with an electric train.
Splurging on a drink in the Punch Room on the 15th floor? Then you'll get to see the Speakeasy Tree.
Outside, check out the 17-foot tall tree made of 789 green plastic bottles.
NASCAR Hall of Fame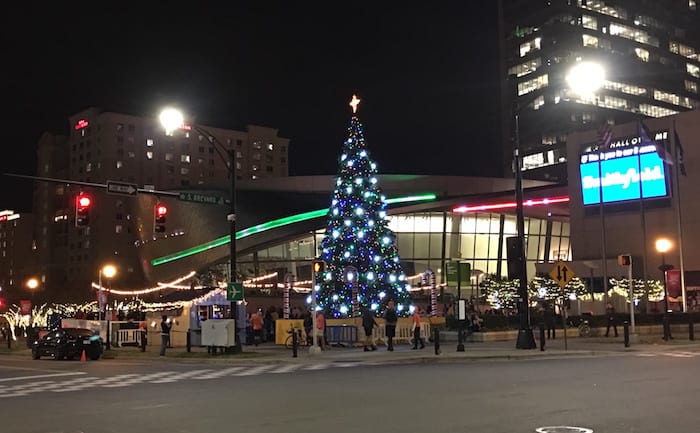 400 East MLK Jr. Boulevard
You might be tempted to skip the NASCAR Hall of Fame Plaza, because it's a couple blocks away, but don't. The tree here is actually the most colorfully decorated of the three outdoor trees, and, even if you aren't skating, Holiday on Ice sets a festive scene. There's more going on too, including live music every Friday night.
The rink is open Wednesdays through Sunday, and starting December 17th, it'll be open every day through January 7th. Schedule varies.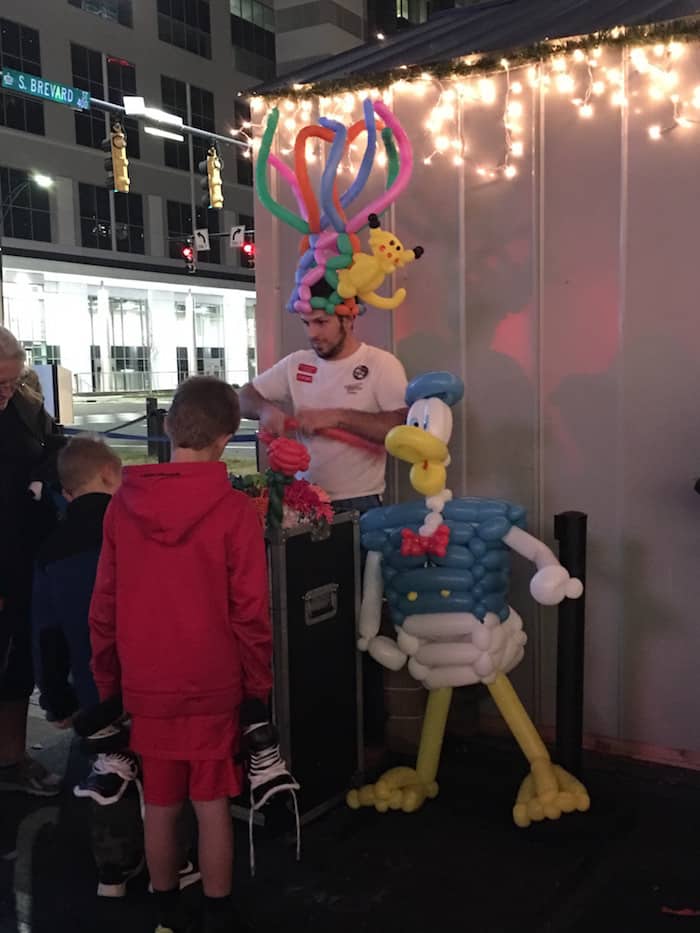 You might also be interested in these upcoming holiday events:

Monday, November 12, 2018
Tuesday, November 13, 2018
Wednesday, November 14, 2018
Thursday, November 15, 2018
Friday, November 16, 2018
Saturday, November 17, 2018
Sunday, November 18, 2018
Monday, November 19, 2018
Tuesday, November 20, 2018
Wednesday, November 21, 2018
Thursday, November 22, 2018
Friday, November 23, 2018
Saturday, November 24, 2018
Sunday, November 25, 2018
Monday, November 26, 2018
Tuesday, November 27, 2018
Wednesday, November 28, 2018
Thursday, November 29, 2018
Friday, November 30, 2018
Saturday, December 1, 2018
Sunday, December 2, 2018
Monday, December 3, 2018
Tuesday, December 4, 2018
Wednesday, December 5, 2018
Thursday, December 6, 2018
Friday, December 7, 2018
Saturday, December 8, 2018
Sunday, December 9, 2018
Monday, December 10, 2018
Tuesday, December 11, 2018