Here's to a frugal Halloween! Whether you prefer Halloween to be full of thrills and chills or just mildly spooky, one of the scariest parts can be the amount of money you spend. After you add up the cost of costumes, parties, candy and outings, it might seem like a real life nightmare. But there are ways to have a great time without breaking the bank.
Save on Halloween costumes
DIY Costumes: You don't have to shop the Halloween stores to get a great costume. Check out this list of 101, easy DIY costumes for kids and adults.
Organize a costume swap: Set up a costume swap with a group of friends, your kids' school, scout troop, neighborhood or community group. The larger the group, the better. It's pretty simple. Collect costumes ahead of time. For every costume a participant donates, they get a ticket, redeemable for one costume on the day of the event. Leftover costumes can be saved for the following year or donated to a group that serves children.
The Costume Game: This is for the true procrastinator. Think Halloween crossed with Project Runway. Set a timer and let the kids raid dress-up boxes, their own clothes, their siblings clothes (with permission!) and other household objects. Make sure duct tape is available! This takes away the pressure for the "perfect" costume, and focuses on the fun of the process instead. Video the mad dash for costumes and your kids modeling their creations.
Thrift and Consignment Stores: Visit thrift and consignment shops. Some will have costumes. Those that don't will certainly have inexpensive clothing and accessories to create costumes. Here's a big list of 103+ thrift and consignment shops in the Charlotte area.
Save on Halloween candy
Buy in bulk: If your neighborhood is a hotbed for Trick-or-Treaters, plan ahead and make a trip to a warehouse club like Sam's Club, Costco or BJ's. Not a member? Here's a Groupon for membership to Sam's Club.
Recycle unwanted candy: There are so many fall festivals and Halloween parties that happen before the holiday that it's a good bet that your kids have candy that they don't even like. Add that candy to the Trick-or-Treat cauldron.
Lower your standards: Don't try to be the best house. Buy whatever candy is cheapest. Believe me, kids are nicer these days than they were when we were kids. Nobody will egg your house for handing out lollipops instead of Hershey Bars. Disclaimer: Probably.
Use coupons: Buy whatever candy you can find coupons for. Check the Sunday paper. If you want to learn how to maximize the benefits from couponing, download The Ultimate Guide to Coupons. Use the promo code CLTCHEAP to save $2.
Don't buy candy you like: You know what I'm saying here, right? Maybe you have never eaten the all the mini Milky Ways before Halloween and had to go back the store to buy more. Or maybe you have. No judgment from Charlotte on the Cheap.
Halloween Candy Buy-Back: This doesn't necessarily save you money when you buy candy, but it does give your kids some cold hard cash and could potentially save some dentist bills. After Halloween, many dentists offer to buy back excess candy from kids. And, remember, it doesn't have to be excess candy that your kids collected. It could be candy that didn't get handed out to Trick-or-Treaters. Learn about the program and see which dentists in the Charlotte area are participating.
Save on Fall Activities
Save on haunted and fall attractions: Start by looking through this list of haunted trails, hayrides, pumpkin patches and more. Follow each link, because many of the sites have coupons you can download, or have certain days that are discounted. Then check out Groupons for haunted attractions.
Fall Festivals: There are many, many fall festivals, and the list keeps growing. Most of them are free. Here's a big list of fall festivals in the Charlotte area.
Create your own traditions: Often, kids' best memories are their family's own traditions, and they don't have to cost a thing, or not much, in any case. Tell ghost stories around a fire. Make a tradition of a neighborhood walk after dark the last full moon before Halloween. Create a food tradition, like this pumpkin cake or these ghoulish fingers.
Save on Halloween Decorations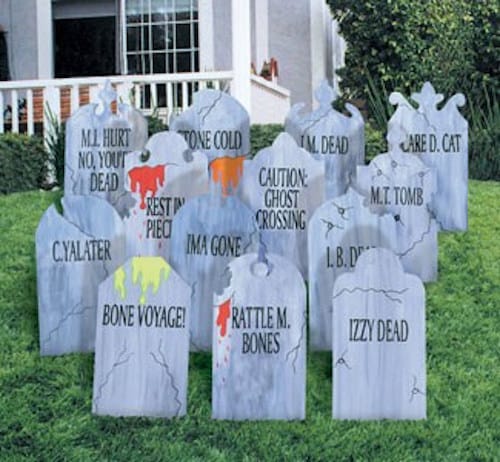 DIY decorations: Check out these cheap DIY decorations from Living on the Cheap. Learn how to make a decorated wine bottle, a giant spider, a Jack-o-Lantern toilet paper roll or a styrofoam graveyard.
DIY Scarecrow: Also from Living on the Cheap, here are directions for a DIY scarecrow.
Shop the dollar stores: Dollar stores are a fantastic source of cheap decorations. Cheap, as in one dollar. A rule of thumb is to never go anywhere else to buy decorations until you check out the dollar stores.
Free Jack-o-Lantern stencils: Choose from a huge selection (700 and counting) of pumpkin stencils from the Pumpkin Lady. They are free to download. They'll be in PDF format and will include basic instructions. Also, here are a couple of UNC Charlotte 49ers pumpkin stencils.