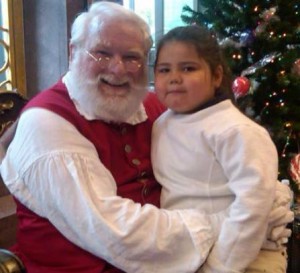 Free Santa pictures in Charlotte! This is the time of year to dress kids up in their holiday outfits, take them to the mall, wait in line, hope they don't flip out on the old guy…and then pay an arm and a leg for the picture. I can't help with the flipping out part, but here are six ways to get free photos of your kids with St. Nick.
Bass Pro Shops offers free 4×6 photos of your kid with Santa every day through Christmas Eve. You can purchase more, but the 4×6 is free. There can be a line. Avoid it by visiting Monday through Friday (also, your child gets a free coloring book those days) or by picking up a Bass Pass, which will gain you access to Santa at a certain time. Enjoy the other holiday themed games, activities and crafts while you wait for your turn.
Extreme Ice Center is hosting Santa on Saturday, December 8th, from 12pm to 7pm. Bring your own camera for this one. While there, you can see the holiday figure skating show for just $5, and that $5 gets you free skate rental at 7:30pm, when the show ends.
Children's Theatre of Charlotte's Santa Bag returns to ImaginOn Wednesday, November 28th, through Saturday, December 1st. (Preschools are visiting Monday and Tuesday.) Bring your camera to take pictures of your child telling Santa what's what. Kids can also shop for very inexpensive, pre-wrapped gifts (50 cents up to $5) with the help of elves. Follow this link for hours.
Cinematic Christmas: Neighborhood Theatre is showing free family holiday movies December 4th, 11th and 18th at 5:30pm. Before the movie on the 4th, Santa will be available for visits. Bring your camera!
7th Street Public Market is playing host to Santa and elves on Friday, December 7th, from 5pm to 9pm. Bring your camera! While you're there, shop for gifts and goodies.
Chick-fil-A Cotswold will offer free Santa pictures to kids on Saturday, December 8th, from 10:30am to 11:30am. A photographer will be at the event taking pictures, and parents are also encouraged to bring their own cameras. Santa Cow will also be on site.
Huntersville Family Fitness and Aquatics Center is holding a Holiday Expo on Saturday, December 15th, from 1pm to 5pm. A photographer will be on hand to take free pictures of kids with Santa.
Knights Stadium is hosting Winter Wonderful on Saturday, December 8th, from 10am to 2pm. A photographer will be on hand to take free pictures of kids with Santa. The pictures will be mailed to parents, who are also welcome to bring their own cameras. There will also be face painting, holiday music, arts & crafts and snow.