Triple C Brewing Company, 2900 Griffith Street (scroll down for a map,) hosts frequent events, many free, and you can find them all on their Facebook page.
Here are a few events coming up: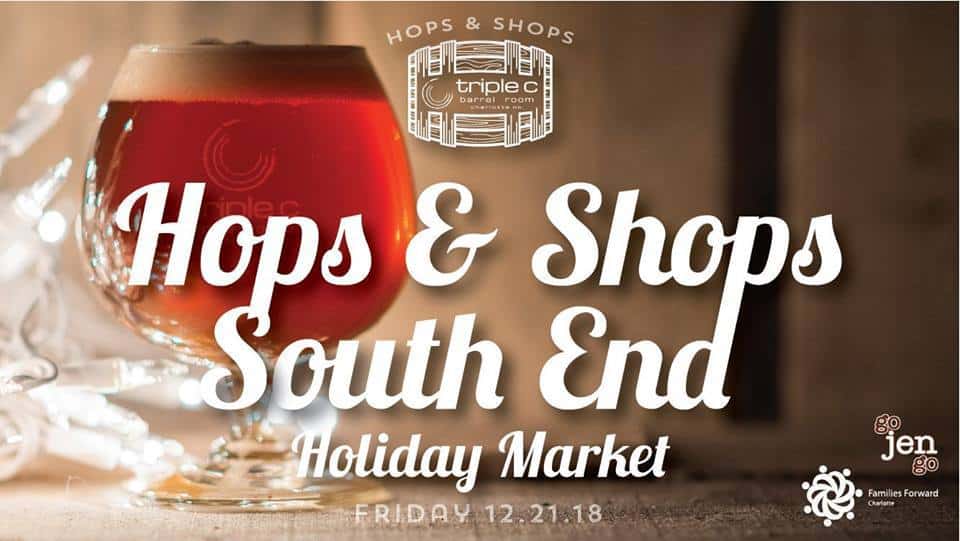 Hops & Shops South End Holiday Market
Friday, December 21st
4 p.m. to 8 p.m.
Free
Local vendors, craft beer, donation based gift wrapping and lots of holiday cheer. All money raised goes to Families Forward Charlotte and Go Jen Go. Vendors will include:
CLT Find
The Secret Chocolatier
EB Jewelry Studio
Created Beautifully
Sweet Union Candles
Crowned Sparrow Craft Co.
Worthy + BA
Southern Fragrance Candle Co.
CLT Boutique
The Usual
Worthy Figures
Urbean
AO Handmade
Kathleen Levren Jewelry
Triple C Weekly Events
Wednesdays: Triple C releases a special one off beer every Wednesday. This is a limited amount that we call a pilot batch. It typically lasts a day or two at most and gives the brewery a way to experiment and have fun with new recipes, along with giving the customer a one-off beer to say they have tried. Typically the beer is $5 a pint.
Thursdays:
Yoga: 6:30 p.m. $5, and comes with a free beer at the end of class. It's held in the climate-controlled Barrel Room.
Run Club: 6:30 p.m. Free.
Saturdays: Live music from 4 p.m. to 7 p.m. On the patio, weather permitting, and usually can move inside if the weather is bad. No cover.
More events at breweries:

Wednesday, December 12, 2018
Thursday, December 13, 2018
Friday, December 14, 2018
Saturday, December 15, 2018
Sunday, December 16, 2018
Tuesday, December 18, 2018
Wednesday, December 19, 2018
Thursday, December 20, 2018
Friday, December 21, 2018
Reader Interactions