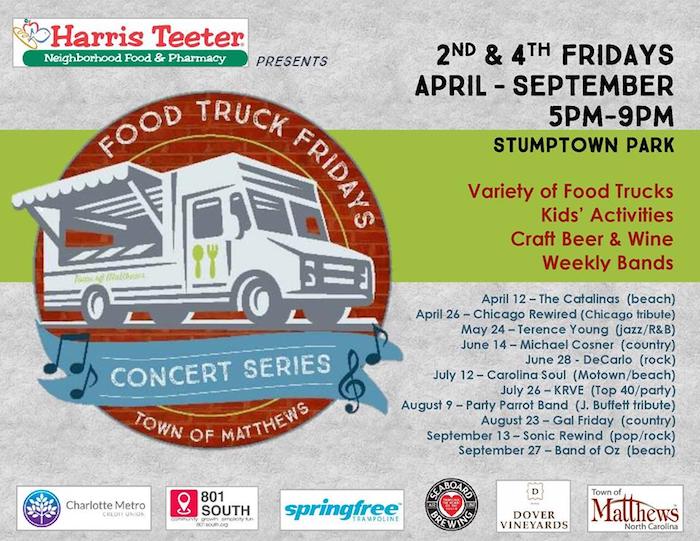 Matthews Food Truck Friday and Concert Series returns in 2018 to Stumptown Park, 200 South Trade Street, Matthews, the 2nd and 4th Fridays from April to September, with the exception of May 10th. The event takes place from 5 p.m. to 9 p.m. and features a wild variety of food trucks and a lineup of fun bands.
The music starts at 5:30.
Band Schedule:
April 12: The Catalinas (beach)
April 26: Chicago Rewired (Chicago tribute)
May 24: Terence Young (jazz/R&B)
June 14: Michael Cosner (country)
June 28: DeCarlo (rock)
July 12: Carolina Soul (Motown/beach)
July 26: KRVE (Top 40/party)
August 9: Party Parrot Band (Jimmy Buffett tribute)
August 23: Gal Friday (Country)
September 13: Sonic Rewind (pop/rock)
September 27: Band of Oz (beach)
More going on:
Craft Beer and Wine
Kids' Activities
No dogs allowed. No outside alcohol.
Follow Matthews Food Truck Friday on Facebook to see updates on food trucks and more.
Upcoming outdoor concerts:
Check back soon.
Saturday, April 6, 2019
Friday, April 12, 2019
Saturday, April 13, 2019
Saturday, April 20, 2019
When
Monthly on the 2nd Friday @ 5:00 pm-9:00 pm (April 12, 2019 - September 13, 2019)
What
Matthews Food Truck Friday and Concert Series
When
Monthly on the 4th Friday @ 5:00 pm-9:00 pm (April 26, 2019 - September 27, 2019)
What
Matthews Food Truck Friday and Concert Series