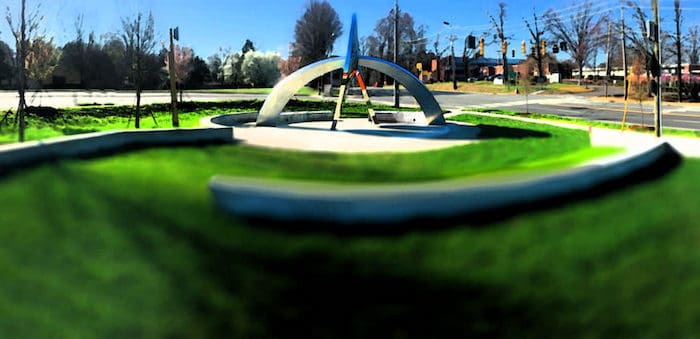 The September 13th event is canceled.
The 2nd Thursday of the month, from April to September, Monroe Road Advocates (MoRa) will present Thursdays Live, which will bring live music, art, food and craft beer to Monroe Road.
The events will take place from 6 p.m. to 8 p.m. at the Embrace Community Sculpture, 6697 Monroe Road.
MoRA is a grass roots organization intent on shaping the rebirth of Monroe Road from Oakhurst to Matthews.
These are free events.
Vendors slated for the family-friendly events include King of Pops (free for children) and their tasty ice pops, and Mister Twister, a popular creator of balloon art.
Parking is next to Hawthorne's Pizza and WingStop.
Here is some of the band lineup:

U-neek Flavur
April 12th
U-neek Flav'ur have become one of the most exciting live bands around. The live performance will put you in the party mood for sure. The vocal harmony and choreography not only make a complete show, the high energy flow keeps you wanting more.

Bill Noonan w/ Special Guests
June 14th
Honky-tonk meets rock and roll, mixing up classic dancing and drinking songs with more eclectic covers and selections from Noonan's catalog of top-notch originals.
Unaka Prong
July 12th
For the last four years, Unaka Prong has been tirelessly performing around the region and further building their repertoire. Songs and compositions including tasteful elements of southern rock, folk, funk, R&B, jazz fusion, reggae, and the spaces in-between.
Atlas Road Crew
August 9
South Carolina rock 'n' roll shot with southern soul accents. Formed in fall of 2011, Atlas Road Crew is rapidly building one of the most loyal fan bases on the East Coast, packing venues to capacity from South Carolina to New York City, and expanding quickly to major US cities in between.
Check out descriptions of more summer concert series in Charlotte, by area. Or just look below for a list of upcoming outdoor concerts, day by day.
Upcoming Outdoor Music, by day
Saturday, March 30, 2019
Thursday, April 4, 2019
Friday, April 5, 2019
Saturday, April 6, 2019
Thursday, April 11, 2019
Friday, April 12, 2019
Saturday, April 13, 2019
Thursday, April 18, 2019
Friday, April 19, 2019
Saturday, April 20, 2019
Thursday, April 25, 2019
Friday, April 26, 2019
Saturday, April 27, 2019
Monday, April 29, 2019
Tuesday, April 30, 2019
Wednesday, May 1, 2019
Thursday, May 2, 2019
Friday, May 3, 2019
Saturday, May 4, 2019
Sunday, May 5, 2019
Thursday, May 9, 2019
Friday, May 10, 2019
Saturday, May 11, 2019
Sunday, May 12, 2019
Thursday, May 16, 2019