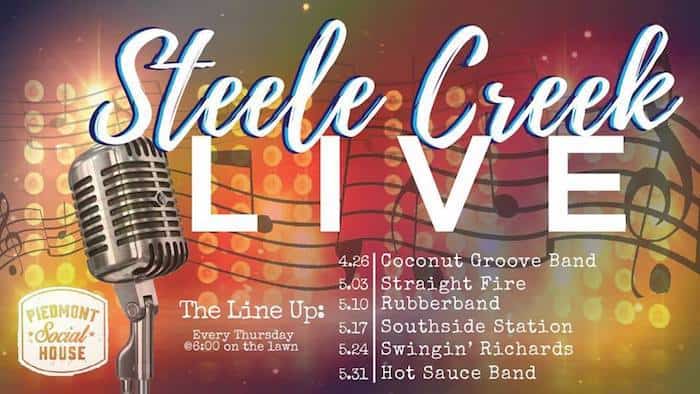 Steele Creek Live is a free spring concert series at Piedmont Social House, in Southwest Charlotte, 2135 Ayrsley Town Boulevard.
The concert series runs on Thursday nights from April 26th, 2018, to May 31st, from 6 p.m. to 9 p.m.
In addition to the music, enjoy games like ping pong, corn hole and connect four. The concerts take place on the lawn in front of Piedmont Social House.
Spring Concert Series Band Schedule
4/26: Coconut Groove Band
5/3: Straight Fire
5/10: Rubber Band
5/17: Southside Station
5/24: Swingin' Richards
5/31: Hot Sauce Band
More Outdoor Concert Series in the Charlotte area
Learn about 19 other outdoor concert series in Charlotte.
Here's what's coming up next:
Saturday, March 30, 2019
Thursday, April 4, 2019
Friday, April 5, 2019
Saturday, April 6, 2019
Thursday, April 11, 2019
Friday, April 12, 2019
Saturday, April 13, 2019
Thursday, April 18, 2019
Friday, April 19, 2019
Saturday, April 20, 2019
Thursday, April 25, 2019
Friday, April 26, 2019
Saturday, April 27, 2019
Monday, April 29, 2019
Tuesday, April 30, 2019
Wednesday, May 1, 2019
Thursday, May 2, 2019
Friday, May 3, 2019
Saturday, May 4, 2019
Sunday, May 5, 2019
Thursday, May 9, 2019
Friday, May 10, 2019
Saturday, May 11, 2019
Sunday, May 12, 2019
Thursday, May 16, 2019