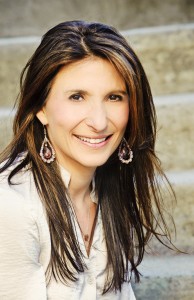 Rebecca Plaisance has her finger on the pulse of the kid scene in the Charlotte area. Editor and publisher of South Charlotte Macaroni Kid, the area's go to source for family friendly activities. Originally from Northern Virginia, Rebecca has lived in Charlotte for eleven years and has three kids. I asked her to tell me her take on the top five places to take kids in the Charlotte area. It's about impossible to limit the list to just five (in fact, she slipped in a sixth, but who's counting?) so I'm pretty sure we'll have some additional "top five" lists too.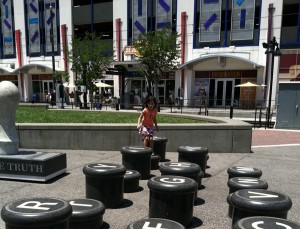 Imaginon and Children's Theater of Charlotte
OK so this is two places but not really because they are under the same roof! Imaginon is an amazing library not only for kids but also teens! Teens have a whole floor to themselves and there is a ton of programming that is just for teens also. For the younger ones, taking in a show at CTC and taking in all that Imaginon has to offer is a great way to spend the day. Imaginon offers a ton of FREE programming for kids with everything from story time yoga to a musical petting zoo.
300 East 7th Street
Latta Park in summer and Charlotte Nature Museum in winter
OK so I am kinda cheating again but these are so close to each other it's really not a cheat! Latta Park in Dilworth is by far the best free way to spend a day in Charlotte. The spray ground opens at the end of May and is the most old school fun I can find to do with my kids. The spray ground is gated so you can stick the kids in and watch the wet fun from outside. It can be very slippery in there so wear a pair of old tennis shoes that they can get wet. The other reason to wear tennis shoes is that there is a rocking park and plenty of space for the kids to run themselves into a coma. Pack a lunch, grab your swimmies and bikes then head to Latta Park for the best summer fun in the area.
601 East Park Avenue
When it starts to get cold the Charlotte Nature Museum is my go to time killer. The kids can spend their time wandering in the butterfly garden, at any given time you are able to find a critter being fed his lunch and there is a great climbing structure to burn off that winter energy your kids build up. The Nature Museum has a great back yard (Freedom Park) that you can explore if you want to brave the cold or if we are having a typical cold in the morning but warmish by afternoon Charlotte days.
1658 Sterling Road
Dan Nicholas Park
Worth the drive. Pack lunch, snacks, swimmies and cash before you head north of Charlotte to this kiddie wonderland. Dan Nicholas Park really has everything! Mini golf, a zoo, carousel, train, animals to feed, a splash ground and of course a giant playground. This is an all day event and I promise your kids will pass out in the car on the way home!
6800 Bringle Ferry Rd, Salisbury
The Mint Museum (both locations)
Do NOT be afraid to take your kids to the Mint Museums, even your little ones. The Mint welcomes kids and has a variety of programs ever month to engage budding artist. In addition, The Mint on Randolph has a scavenger hunt your kids can do while you visit the museum. When they finish the paper they can take it to the front desk for a prize. The prizes are cool also! My kids scored these bird whistles from Centeral America!
The Mint Uptown is just as family friendly and is right across the street from The Green. You can visit the museum and then have lunch on The Green, play in the fish fountain and call the day a success!
Mint Museum Randolph, 2730 Randolph Road
Mint Museum Uptown, 500 South Tryon Street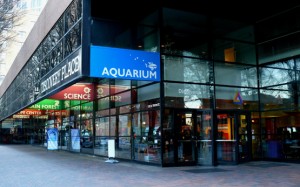 Discovery Place
These may seem like a no brainer but Discovery Place is a great place to get the kids out and having so much fun they will not even know they learning. Discovery Place is a great destination for families with kids of all ages because there is something to engage everyone. Like the Nature Museum, Discovery Place has lots of interactive activities going on during the day. If that's not enough you can always hit an IMAX movie before you go.
301 North Tryon Street