Once again, several Charlotte area locations are showing free outdoor movies this summer. They're mostly in parks and start when it gets dark. Get there early, though, so you can get a good spot for your blanket and to participate in pre-show activities. Some of these summer movie series offer games, bounce houses and activities like face-painting before the shows.
These movies are a great way to relax outside with your kids as the evening (hopefully) cools off. Follow each link for details and movie schedule. This schedule is for 2017.
Scroll down because there are some movies series for adults too, at the bottom of the list.
This list will definitely grow, as many movies series have not been announced yet. Know of others? Please email jody@charlotteonthecheap.com and I'll try to get them added to the list.
Harrisburg's Movies in the Park
Harrisburg Park
May 5, June 2, August 25
Afton Ridge in Concord
Free movies July 8, August 26, September 16, October 14
Free face painting starting at 7. Movies at dusk
Movies Under the Stars at Charlotte Premium Outlets
May 13, 6:30 p.m.
The event will kick off at 6:30 p.m. in the parking lot near Under Armor with live music, a face painter, balloon artist, games, giveaways, tasty treats and more! The feature flick, Trolls, will play at dusk on an impressive 24-foot screen.
Pritchard at South End
Pritchard at South End, 1117 South Boulevard
June 9, June 30, July 21 (June 30th movie is "Sing")
Free popcorn and beverages too
Kannapolis Summer Entertainment Series
Village Park, 700 West C Street, Kannapolis
May 26 – Finding Dory
June 9 – Zootopia
June 23 – Peanuts
July 7 – SING
July 21 – Pete's Dragon
August 4 – Moana
Pineville Rockin' and Reelin'
June 16, 28
Pineville Lake Park, 1000 Johnston Drive, Pineville
Friday, June 16, 7:15 p.m.: Monster Truck (movie)
Friday, July 28, 7:15 p.m.: Moana (movie)
Movies in the Park in Huntersville
Various parks
June 28, August 24
Movies Under the Stars
Symphony Park at SouthPark Mall, 4400 Sharon Rd
Aug 4 Movie Under the Stars – Trolls
Aug 11 Movie Under the Stars – Secret Life of Pets
Aug 18 Movie Under the Stars – Sing
Aug 25 Movie Under the Stars – Fan Vote
Music and Movies on the Green
Promenade on Providence
This is primarily a music series, but there are a few kids' movies in the mix:
July 21: Sing
September 15: TBA, Fan Vote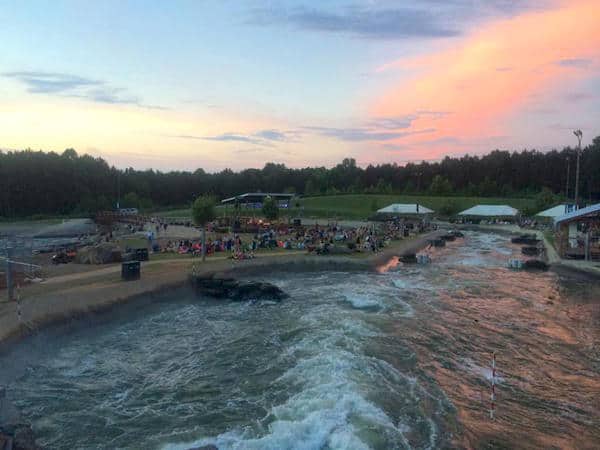 Outdoor Movies for Adults
Whitewater Film Series
Fridays through May 26
Adventure-themed movies. They start at dusk. Might not all be appropriate for kids.
Friday night movies at Craft
Fridays through the end of October. They start at sunset.
Craft Tasting Room and Growler Shop, 1320 S Church St