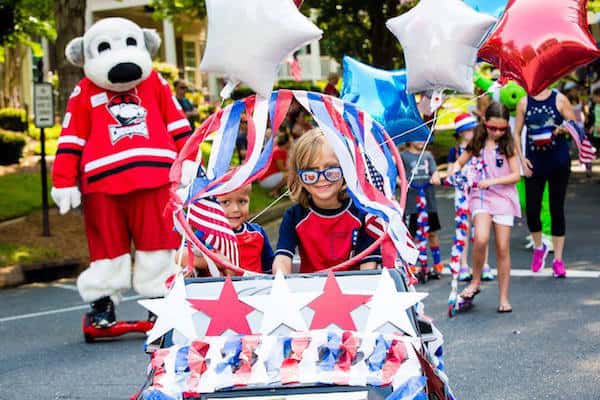 Baxter Village in Fort Mill, South Carolina, is presenting a 4th of July Parade at 9:30 a.m. on Tuesday, July 4th, 2017. It'll take place along Market Street. Baxter Village is just a few minutes south of Uptown Charlotte on I-77 at Highway 160/Exit 85. The parade starts at 940 Market Street.
Also: find a big list of Charlotte area 4th of July festivities here.
Email baxteractivities@gmail.com with any questions.
Some of what you'll see:
clowns
stiltwalkers
classic cars and Shriners performance units
Charlotte's pro sports mascots: Carolina Panthers' Top Cats, Charlotte Knights' mascot Homer, Charlotte Checkers' mascot Chubby
Fire Department Honor Guard
Bagpipers
Carolina Panthers' Percussion Band
Shriner's Performance Dune Cats,
Face Painting Characters
Mobile Bubbles
Uncle Sam & Betsy Ross
Riverview Fire Department
York County Sheriff's Department
Irish Dance Groups
Floats
Decorated Golf Carts
Walking/Scooter/Bicycle unit