WonderFest is a new family-friendly festival at ImaginOn, 300 East 7th Street, on Saturday, January 13th, from 10 a.m. to 4:30 p.m.
It's a collaboration between the Children's Theatre of Charlotte and the Charlotte Mecklenburg Library in support of family theatre and experiences that promote imagination and collaboration.
The festival includes three ticketed Children's Theatre of Charlotte performances, but also many free activities. The festival itself is free to attend. You just need to purchase tickets for any of the productions you'd like to attend.
Ticketed performances at WonderFest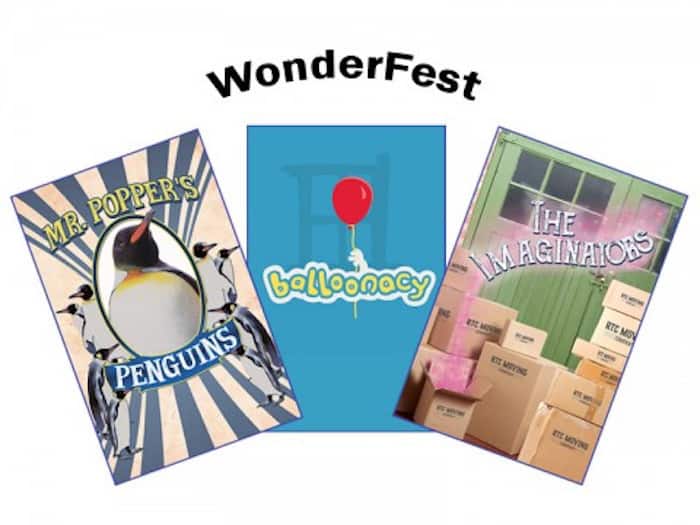 11:00 a.m.: Balloonacy (Wells Fargo Playhouse)
A mischievous balloon finds its way into the home of a solitary old man, and suddenly his curmudgeonly life is interrupted. Sweet, inventive and packed with physical comedy, this play explores the power of friendship and shows how, with a little imagination and acceptance, companionship can be found in the most unlikely of places. Recommended for ages 3+. Approx. length: 40 minutes. Purchase tickets.
1:00 p.m.: The Imaginators (Wells Fargo Playhouse)
Tim is a playful 9-year-old, while his sister Anne is a serious 10-year-old. When their family moves to a new town, Anne refuses to play with Tim fearing the kids in her new school will make fun of her. When Anne and Tim meet the inventive girl next door, Nina Frances Elizabeth Vanderhelden, they have little choice but to join her on an imaginative adventure they'll never forget. Recommended for ages 7+. Approx. length: 60 minutes. Purchase tickets.
3:00 p.m.: Mr. Popper's Penguins (Wells Fargo Playhouse)
Mr. Popper spends his time daydreaming of adventures in far-off lands while Mrs. Popper scrimps and saves to put beans on the table. When a spirited penguin arrives on their doorstep, a new horizon (and flock!) opens before them! Come along for an unforgettable adventure in this 1930s-inspired musical based on the classic book. Recommended for ages 4+. Approx. length: 60 minutes. Purchase tickets.
Free experiences at WonderFest
10:30 a.m.: Balloonacy-themed Family Storytime (Spangler Library)
Bring your family to enjoy stories, songs and movement activities that support early literacy skill development and help foster your child's love of books and reading. Today's storytime is balloon-themed in honor of the in-house performance of Balloonacy. We encourage parents and caregivers to participate. Stick around afterward for a Balloonacy-inspired make-and-take or head straight to the theatre for the show! Ages 0-5.
11:30 a.m.: ImaginOn Backstage Tour (Welcome Desk)
Want to see how the magic is made for our three WonderFest plays? A staff member from Children's Theatre of Charlotte will give a special backstage tour of ImaginOn's theatre space. Registration starts at 11 a.m. at the entrance desk, and we welcome all ages. Join us as we explore Children's Theatre of Charlotte from the Scene Shop to the Costume Shop. All ages.
12:00 p.m.: Donna Pruett "The Balloon Lady" (StoryJar)
Donna Pruett's entertaining program includes award winning balloon creations, music, storytelling, and engaging magic tricks that appeal to children of all ages. You'll be amazed by what she can create with just balloons and a bit of imagination. All ages.
2:00 p.m.: Story Explorers: Penguins, Penguins, Penguins! (The Round)
Explore books and stories in creative ways through activities including math, science, games and more! Inspired by the in-house performance of Mr. Popper's Penguins, the day's free Story Explorers program will include non-fiction penguin exploration, penguin games and ice painting. Ages 5-11.
2:00 p.m.: Theatre 360 Workshop & New Works Class (Studio A)
Description TBD.
4:15 p.m.: ImaginOn Building-Wide Tour (Welcome Desk)
ImaginOn was founded with the mission of bringing stories to life. In honor of the stories being told in the building, both on stage and off, a staff member from the Charlotte Mecklenburg Library will conduct a special full-building tour of ImaginOn, highlighting the most creative elements and detailing the history behind them. For example, did you know ImaginOn is a "green" building made from sustainable material? Do you know how the StoryJar works? The tour is free, and registration begins at 4 p.m. at the entrance desk. We welcome all ages.
ALL DAY (10 a.m. to 4:30 p.m.):
Wonderfest BookWalk: Our BookWalk is a way to enjoy a story and exercise at the same time. Take a self-guided walk around our building, from top to bottom, and see how many of our 16 hidden pictures from the books Demasiados Globos and Penguins! you can find in silver picture frames.
Cain's Arcade: Inspired by The Imaginators, join the Teen Loft upstairs for an interactive building project with cardboard boxes.
Make-and-Take Stations: Visit our stations in Spangler Library to decorate a penguin for our wall or enjoy a balloon-themed make-and-take activity.