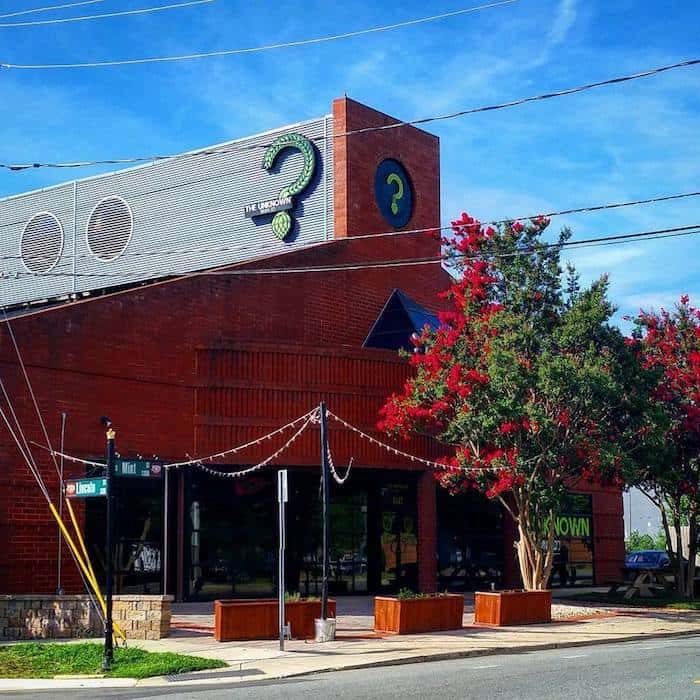 The Unknown Brewing Company, at 1327 South Mint Street, hosts frequent event. If you take a look at their Facebook page and website, between the two, you will see them all!
Here are some of Unknown Brewing Company's upcoming events:

Ping Pong Tournament
Every Tuesday through December 25th
7 p.m.
Free
Every week on Tuesday, Unknown runs a single elimination tournament style ping pong league competition. The winner gets two 6-packs of beer. It's free to join. $1 from every pint sold on Tuesday nights from the charity tap goes to the ACEing Autism-Charlotte scholarship fund.
Brewery Bootcamp
Every Thursday
6 p.m.
Free
Unknown Brewing Company has partnered with the YMCA to bring you free weekly bootcamp classes in the brewery. Each class is a different workout that you can guarantee will get you sweating. Bring some water and a towel and meet up in the brewhouse for your free weekly bootcamp.
Unknown Trivia Night
Every Thursday
7 p.m. to 9 p.m.
Free
Grab your team and get here early to grab a table and some beers before the trivia begins. 1st place gets a $30 Gift Certificate, 2nd place gets a $20 Gift Certificate and last place gets an extra special prize. Head on over with your brainiest friends and see what your mind is made of.
Unknown Hinson Plays Unknown
Friday, August 10th
7 p.m. to 10 p.m.
$15
Come out for a performance by Unknown Hinson. Tickets are expected to go quickly, so get one while you can. 
More upcoming events at breweries
Monday, October 15, 2018
Tuesday, October 16, 2018
Wednesday, October 17, 2018
Thursday, October 18, 2018
Friday, October 19, 2018
Saturday, October 20, 2018
Sunday, October 21, 2018
Monday, October 22, 2018
Tuesday, October 23, 2018
Thursday, October 25, 2018
Friday, October 26, 2018
Saturday, October 27, 2018
Sunday, October 28, 2018
Tuesday, October 30, 2018
Thursday, November 1, 2018
Friday, November 2, 2018
Tuesday, November 6, 2018
Thursday, November 8, 2018
Friday, November 9, 2018
Tuesday, November 13, 2018
Thursday, November 15, 2018
Friday, November 16, 2018
Tuesday, November 20, 2018
Thursday, November 22, 2018
Friday, November 23, 2018
Tuesday, November 27, 2018
Thursday, November 29, 2018
Friday, November 30, 2018
Saturday, December 1, 2018
Tuesday, December 4, 2018
Thursday, December 6, 2018
Friday, December 7, 2018
Saturday, December 8, 2018
Tuesday, December 11, 2018
Thursday, December 13, 2018
Friday, December 14, 2018
Saturday, December 15, 2018
Tuesday, December 18, 2018
Thursday, December 20, 2018
Friday, December 21, 2018
Tuesday, December 25, 2018
Thursday, December 27, 2018
Friday, December 28, 2018
Thursday, January 3, 2019
Friday, January 4, 2019
Thursday, January 10, 2019
Friday, January 11, 2019