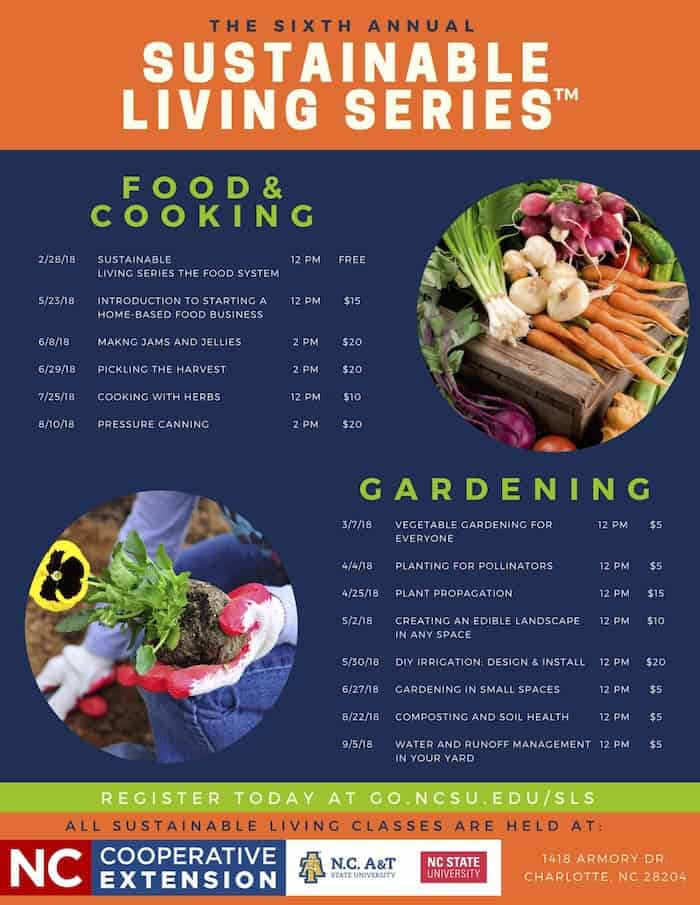 NC State University's Cooperative Extension program offers an annual Sustainable Living Series, an experiential learning program offering low-cost food and gardening classes.
The classes cost $5-$20, which is just the cost of the materials. Follow the above link to register for classes.
They take place at N.C. Cooperative Extension's Mecklenburg County Center, 1418 Armory Drive.
Debunking the Food System
Wednesday, February 28, 2018
12:00 – 1:00 PM
Natural, organic, GMO…what does it all mean? During this presentation, participants will learn about aspects of the food system including the meaning of common food labels, agricultural practices and more.
Cost: Free

Vegetable Gardening for Everyone
Wednesday, March 7, 2018
12:00 – 1:30 PM
From gardening basics like soil preparation, seed propagation, planting dates, and harvesting techniques to recommended vegetables to enjoy through the spring and early summer, to easy gardening tips to ensure a bountiful harvest, NC Cooperative Extension in Mecklenburg teach how to grow healthy, delicious food in the spring.
Cost: $5
Planting for Pollinators
Wednesday, April 4, 2018
12:00 – 1:30 PM
Flowers are great, but ever wonder what pollinators are attracted to which types of flowers? Come join the buzz and learn what plants pollinators like best!
Cost: $5
Plant Propagation
Wednesday, April 25, 2018
12:00 – 1:30 PM
Propagating plants from seeds, cuttings, or divisions is a gratifying gardening experience plus it saves money! Mecklenburg Cooperative Extension discuss the principles of seed sowing — timing, germination requirements, and growing media — and review the fundamentals of propagation like cuttings and layering. Participants get hands-on experience sowing seeds and receive printed guides to direct their next project, in addition to a special Q&A segment after class.
Cost: $15
Creating an Edible Landscape in any Space
Wednesday, May 2, 2018
12:00 – 1:30 PM
From apartments spaces to windowsills to backyards, edible landscaping can be grown in any space. Steven Capobianco, Horticulture Extension Agent, shares techniques and best practices for incorporating edibles in creative, productive and fun ways!
Cost: $18
Introduction to Starting a Home-based Food Business
Wednesday, May 23, 2018
12:00 – 1:30 PM
Do you have a value-added product, special recipe or other food product idea that you would like to take to market? Starting an home-based food business can be exciting and challenging. During this introductory presentation, you will learn the foundational steps for taking a product from home to market, including best practices for beginners.
Cost: $15 | Register Here
DIY Irrigation: Design & Install
Wednesday, May 30, 2018
12:00 – 1:30 PM
Learn how to properly irrigate your landscape even during times of drought. This workshop will increase your knowledge on the basics of how to install your own irrigation system and save money. Instructional guides are provided to assist participants with diverse experience levels.
Cost: $20
Making Jams and Jellies
Friday, June 8, 2018
2:00 PM – 4:00 PM
Whether you are making delicious jams for the family or conserves as gifts, this class will provide answers to your questions. Kristin Davis, Extension Agent, teaches safe ways to transform fruits into a variety of spreads, through an interactive hands-on format. Participants will complete the canning process in class. Participant must complete the class prerequisite, Basics of Home Food Preservation, at https://mecklenburg.ces.ncsu.edu/hfp/
Cost: $20
Gardening in Small Spaces
Wednesday, June 27, 2018
12:00 PM – 1:30 PM
No land? No problem! Learn how to grow garden-fresh vegetables and herbs year-round in containers. In this workshop, Mecklenburg Cooperative Extension teach planting and maintenance basics for a healthy container garden: materials, styles of containers, various potting mixes, fertilization, and watering requirements. Discover which varieties do best in containers including those varieties that not only taste great but are also attractive. This class is great for apartment/townhome/condo owners and residents with limited space but a desire to garden.
Cost: $5
Pickling the Harvest
Friday, June 29, 2018
2:00 PM – 4:00 PM
Nothing says summer like fresh homemade pickles! Mecklenburg Cooperative Extension teaches the basics of pickling your local harvest of fruits and vegetables. Each participant will complete a hands-on process of preparing bread and butter pickles.
Cost: $20
Cooking with Herbs
Wednesday, July 25, 2018
12:00 PM – 1:30 PM
Herbs are a great way to incorporate beginner edible plants and basic cooking skills. In this workshop, participants will learn benefits of cooking with herbs. gain an understanding of herb/spice combinations and compatible foods, and taste simple recipes that are easy to prepare at home.
Cost: $10
Pressure Canning
Friday, August 10, 2018
2:00 PM – 4:00 PM
Pressure canning is the only canning method recommended for foods that are naturally low in acid, which means the pH of the food is above 4.6, such as meat, poultry, seafood, and vegetables. Mecklenburg Cooperative Extension shares techniques and best practices for preserving food using the dial gauge and weighted gauge pressure canner through a hands-on format. Program Prerequisite: Basics of Home Food Preservation
Cost: $20
Composting and Soil Health
Wednesday, August 22, 2018
12:00 – 1:30 PM
Learn the how's and why's of home composting from proper preparation and management of compost to bin construction techniques to how to use your compost. Mecklenburg Cooperative Extension teach backyard composting basics, turning leaves and kitchen scraps into a wonderful soil amendment, a gardener's black gold!
Cost: $5
Water and Runoff Management in your yard
Wednesday, September 5, 2018
12:00 – 1:30 PM
Tired of having a soggy yard? Does rain cause a river or pond right in your yard? We can help! Come join us and learn DIY ways to manage water in your yard.
Cost: $5
N.C. Cooperative Extension, Mecklenburg County Center
1418 Armory Drive
Charlotte, NC