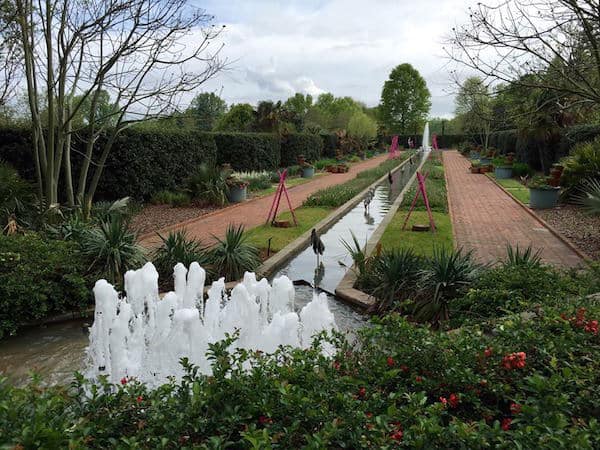 On Thursdays from May 31st to August 30th, Daniel Stowe Botanical Garden will stay open late and offer some special activities, included in the price of admission.
Sip & Stroll, from 6 p.m. to 8 p.m., will feature activities like live music, free beer tastings, free hot dogs, a game night, a Bonsai exhibit, free cider tasting and more.
Admission:
$12.95 per adult
$11.95 per senior 60+
$6.95 per child 2-12
Guests can unwind with a stroll through the Garden and sip local brews, wine or other refreshing beverages available for purchase. Most nights will feature an area brewery and cuisine from food trucks. At other times guests can grab a snack, wrap or salad from The Garden Store. Picnics are also permitted.
Pollinator Putting is also free with admission through Sept. 3rd. The Butterfly Bungalow is just $3 in addition to admission.
May 31—Mike Strauss Trio could be country, but it's not quite country. It could be blues, but it's not quite blues. Not quite rock, folk or jazz either. Somehow Mike manages to live both inside and outside the Americana umbrella that these styles inform. The first 100 people admitted this night will enjoy free hot dogs from Paul's Hot Dogs.
June 7—Demperio-Hertz is a duo whose vocal harmonies emerge from classics in Americana, folk and classic rock. You can also enjoy a selection from Belmont's own York Chester Brewery and a local food truck.
June 14—Spend an evening with Gaston County's favorite troubadour, David Childers on the heels of the release of his newest album "Run Skeleton, Run." We'll also have a food truck onsite.
June 21—Sample Ole Dallas Brewery's Honky Tonk Brown Ale while listening to some the area's best in honky tonk from Stepside Deluxe. Free samples for the first 100 people.
June 28­—Caleb Davis is developing a reputation as one of the area's best and most versatile musicians. He's toured with gospel and country bands but can also put out riffs from Zeppelin and Pink Floyd.
July 5—A big repertoire of gospel, country and bluegrass standards emerge from Carolina Sonrise The first 100 people in attendance will enjoy a free barbecue sandwich.
July 12—Join Chelsea Locklear for her first performance at the Garden as she prepares for the release of her first album Lost in Thought. The Garden will also open a weekend Bonsai exhibit this evening and a food truck will be onsite.
July 19—Back for a repeat performance are the talented musicians from Stepside Deluxe, whose goal in life is to keep live music alive and well. The Garden will also have a food truck onsite.
July 26—Join us for a wine tasting and the vocal stylings of Jay Smith. The first 100 adults in attendance will receive free sampling tickets.
August 2—Join the groovy rockabilly band, Jem Crossland and the Hypertonics, as the Garden hosts its first-ever Nostalgia Game Night. The Garden wills also have a food truck onsite.
August 9— The Farmer's Almanac says the Dog Day of Summer are July 3 to Aug. 11, so we're celebrating their end with your dog! Bring you pooch, have drink and listen to the sounds of Demperio-Hertz. A food truck will also be on site.
August 16—Sample hard cider from Red Clay Ciderworks with free sampling tickets for the first 100 guests. Stepside Deluxe will also be on hand.
August 23—Enjoy music from Ellie Morgan and her sound that is best described as acoustic soulful pop, with influences from artists such as Taylor Swift, Adele, and Colbie Caillat. All teachers receive free admission 5 to 9 p.m. for one night only. Plus a food truck will be onsite.
August 30—Caleb Davis is back for a reprise performance. RE/MAX will also be offering free tethered balloon rides from RE/MAX and a food truck will be onsite.