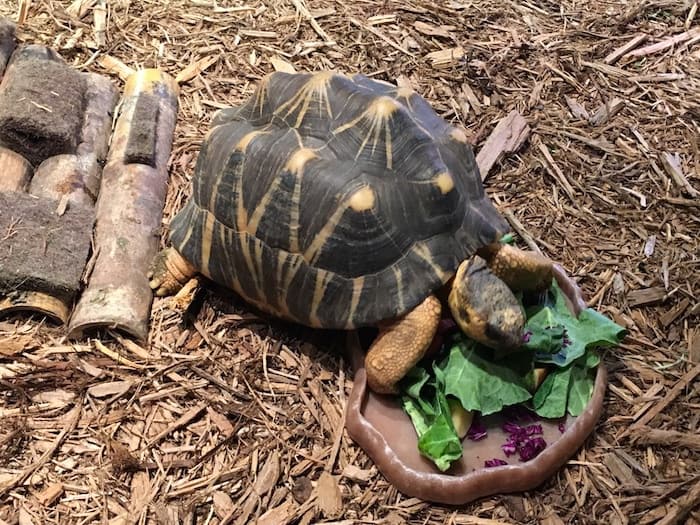 SEA LIFE Charlotte-Concord, at Concord Mills, is home to a turtle shelter through the end of 2018, so if you haven't visited in a while, make sure to visit and check out the new residents.
The newest resident is Fuji, a Radiated Tortoise from Madagascar, on loan from Brookfield Zoo in Illinois.
Here are some fun facts about Fuji, and about Radiated Tortoises in general:
Fuji got his name from the apples that he loves
Fuji is 22 years old.
The longest living tortoise on record was Tu'l Malila, who lived to the age of 188 years old.
Fuji weighs 20 pounds.
Radiated Tortoises can grow to be 35 pounds.
They have nerve endings in their shells.
Fuji likes to have his back scratched.
The Turtle Shelter is also home to several other turtle species. Watch this video of Fuji, a Snapping Turtle and some of the other aquatic inhabitants of SEA LIFE.
Tickets are $19.95 for adults and $14.95 for kids age 3-12, but there are a few ways to save:
Online Super Saver: Both kids and adults save $4 when tickets are purchased online.
An individual annual pass is $45, or $43/person for 4 or more people.
Toddler Tuesdays: 1 adult and 1 child (age 3-12) for $15. Up to 5 additional kids admitted for $5 each.
Because of a raging controversy and a disinformation campaign in my own home about the differences between turtles, tortoises and terrapins, I've done a (very) little bit of reading and would like to share the results of my research.
From National Marine Life Center in Massachusetts:
Terrapins live near brackish, swampy water and split their time between land and water.
Tortoises live only on land and don't have webbed feet. They might go into water but they are really bad swimmers.
Turtle is the name given to both of the above, plus sea turtles, who live in the water and have webbed feet and flippers.