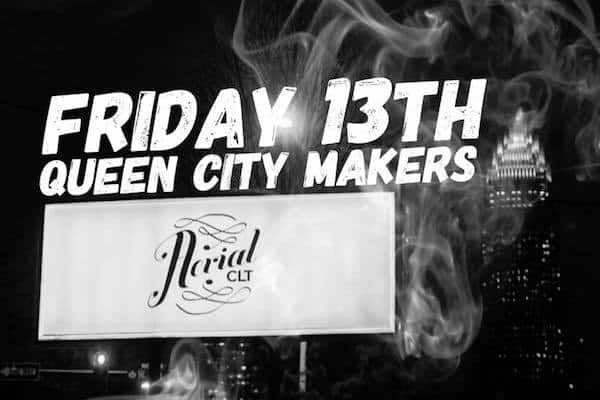 Join Queen City Makers at AerialCLT, 801 North Tryon Street, for a Friday the 13th Halloween Masquerade Soirée and Benefit on Friday, October 13th, 2017, from 6 p.m. to 10 p.m.
Costumes are encouraged. Admission is free. All ages
Here's what's going on:
30+ local vendors, including artists, bakers, and makers
Casa food truck
Magician performance times from Caleb Morgan Magic
Live acoustic music from Erin and Matt
Photo booth
Costume Contest
Benefit raffle with 100% of proceeds donated to Safe Alliance
Free uptown parking lot at venue.
Makers include:
Dancing Thistles
The Concord Exchange
Lush Life Art
Willow and Ruth
Lil Rebel Bakery
Organicole
Cocobolo Studio Fine Woodworking
Tabletop Campfires
Seeing It Simply
The Alley Way Market
Heather Feather's Design
Seams Legit Crafts
AI to You
Originate Handcrafted Jewelry
Troy Lee Images
Southern Fragrances Candle Co
Willow And Ash
Modern Earth Designs
byChance Creations
Sassy Senses by Kelley Haynes
BoerBarn Handmade
The Delirious Dragonfly
Mo's Art
Drop Sky
Creations of a Lunatic
C. Photography
Pet Wants CLT: Urban Feed Store
Purple Girl Designs
Nina Zanger
Mila Simmons, Visual Art