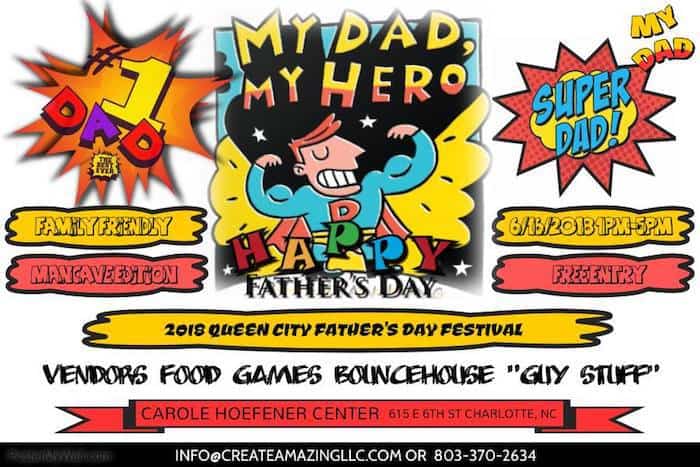 The 2018 Queen City Father's Day Festival is a free event that will take place Saturday, June 16th, 2018, from 1 p.m. to 5 p.m., at The Carole Hoefener Center, 615 E. 6th Street.
This event will feature:
100 free swag bags
50 vendors
Crafts
Games
Displays
Food
Bouncy house for kids
Homer the Dragon appearance
Winthrop University Mascot "Big Stuff"
Winthrop University Athletics Garnet & Gold Tour
Corn Hole
Raffles
Coloring Sheets
Cone & Ladders (Agility Drills)
Posters
Dolly Parton Imagination Library
Free book subscriptions for children 0-4
Receive one book per month by mail until age 5
Current Vendor List:
It's Poppin Gourmet Kettle Korn
DC Lover's of the Leaf Cigas and Accessories
PRP Wine International
Paparazzi
All American Gutter Protection
Young Living
Mr. Smiley's Italian Ice
Lucy G Shea Butter Blends
Family Healing Chiropractic
King Of Pops
Donations will be accepted for Men's Shelter of Charlotte:
Men's Shelter of Charlotte's mission is to provide safe emergency shelter while working to end homelessness for each man. Nightly, we offer 350 beds, which remain at capacity, to provide shelter, meals, showers, access to laundry facilities, and a supportive staff. Services are offered to help men increase their income and move to more appropriate housing.
Donation List:
New Boxer Briefs or Boxer Shorts (sizes L, XL, XXL)
Disposable Razors
Bar Soap or Body Wash (in small bottles)
Small Bottles Shampoo
New Wallets