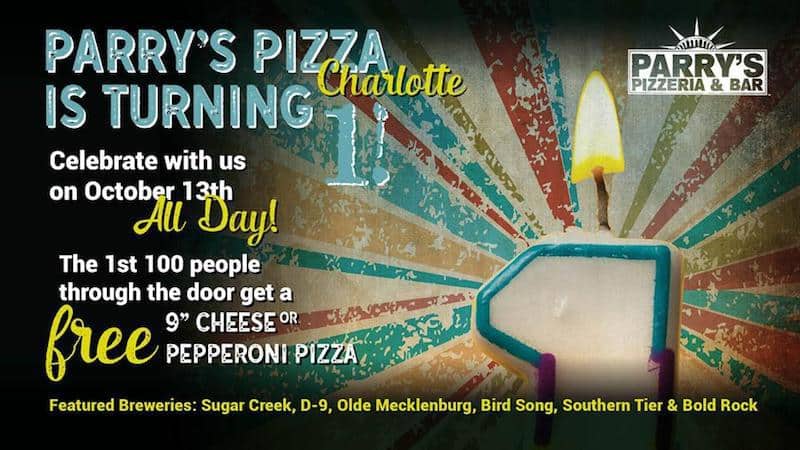 Parry's Pizzeria at Northlake Mall is celebrating its first anniversary on Saturday, October 13th, 2018, from 11 a.m. to 10 p.m.
Parry's is a New-York style pizzeria featuring 100 beers on draft.
The first 100 guests October 13th get a free 9″ personal cheese or pepperoni pizza.
Local breweries will be doing giveaways, host tastings and tapping special beers.
The brewery time slots are as follows:
11 a.m. – 1 p.m.: Sugar Creek Brewing Company
12-2 p.m.: D9 Brewing Company
4-6 p.m.: Olde Mecklenburg Brewery
5-7 p.m.: Birdsong Brewing Company
6-8 p.m.: Southern Tier Brewing Company
7-9 p.m.: Bold Rock Hard Cider
The birthday-themed anniversary party will also feature a balloon twister, live music in the evening and more.
More food and drink related events and deals
Monday, January 21, 2019
Tuesday, January 22, 2019
Wednesday, January 23, 2019
Thursday, January 24, 2019
Friday, January 25, 2019
Saturday, January 26, 2019
Sunday, January 27, 2019
Monday, January 28, 2019
Tuesday, January 29, 2019
Wednesday, January 30, 2019