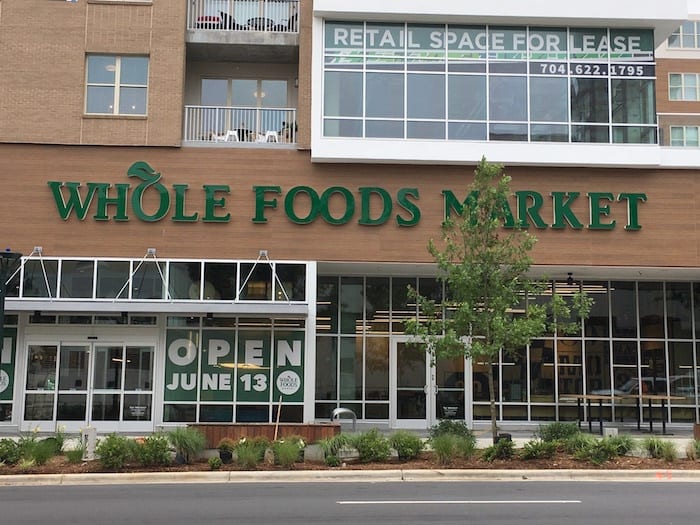 Whole Foods Market Uptown Charlotte is opening Wednesday morning, June 13th, at 400 E. Stonewall Street, just steps away from the LYNX light rail's Stonewall Station. There's also a parking deck there, with free parking for shoppers.
On opening day you can expect lots of product demonstrations and free samples. The doors will open at 9 a.m. Starting at 8 a.m. customers can enjoy coffee, music and bakery treats. The first 500 people will receive a gift card valued between $5 and $50, with one $500 card in the mix.
Whole Foods Market stocks many local products, many organic products, sustainable seafood, and meats from farms and ranches with high standards of animal welfare. So you can expect to pay more than at a conventional supermarket. However, there are ways, some big and some small, to save money
Here are some tips for getting the most for your money at Whole Foods Market. All of these tips have been verified with Whole Foods Market Uptown Charlotte, and will probably be applicable to other locations as well, but some locations might differ slightly.
14 ways to save money at Whole Foods Market
First of all, sign up for Amazon Prime. Starting Wednesday, June 13th (which is also the opening date of Whole Foods Market Uptown) Amazon is expanding Prime benefits to Whole Foods Markets in 10 additional states, including North Carolina.
The most significant savings at Whole Foods Market will be for Amazon Prime members, and the store's discount program is wrapped around Amazon Prime.
The cost of Amazon Prime is $119 a year. (You can try it for 30 days for free.) Besides unlocking significant savings at Whole Foods Market, you'll get the usual Amazon benefits: free 2-day shipping on many items, access to thousands of TV shows and movies at no additional cost, ad-free and on-demand listening to 2 million songs in Amazon music, and a growing number of books that you can read for free.
The next step to savings is to download the Whole Foods Market app, and to sign on with your Amazon logon. Then your Amazon account is connected and you'll get the discounts you're about to read about.
On to the 14 ways to save money at Whole Foods Market!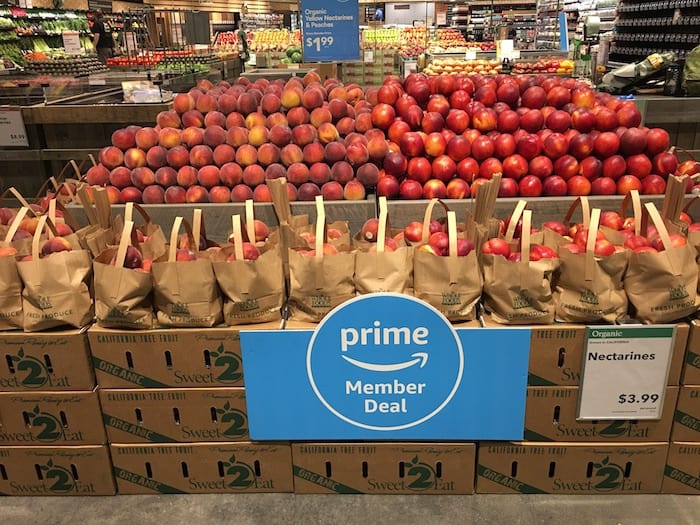 1. Look for the color-coded signs with the products.
A yellow sign means that the item is on sale for everyone, but Amazon Prime members get an additional 10% off.
A blue sign indicates a rotating deep discount. These discounts are only for Amazon Prime members, and they're significant. For example, during the first week of operation of Whole Foods Market Uptown there are these deals:
Organic yellow nectarines and peaches, $1.99/lb., save $2/lb.
Made-in-house pork sausage, no antibiotics, $3.99/lb., save $3/lb.
Wild sustainably caught yellowfin tuna steaks, $15.99/lb., save $9/lb.
Annie's Natural Macaroni & Cheese, buy one, get one free
Essentia Water, 1.5L bottles, 4/$5
Self-serve tea cookies by the pound, 50 percent off (one-day sale, June 15)
An orange sign indicates an everyday discount, which is just a good deal you should note.
2. Get the Whole Foods Market app
Whole Foods Market is focusing its savings programs on its app, in coordination with Amazon Prime. After you download and sign on to the app, you'll get email updates from Whole Foods Market with the latest Prime member deals as well as the regular in-store weekly sales.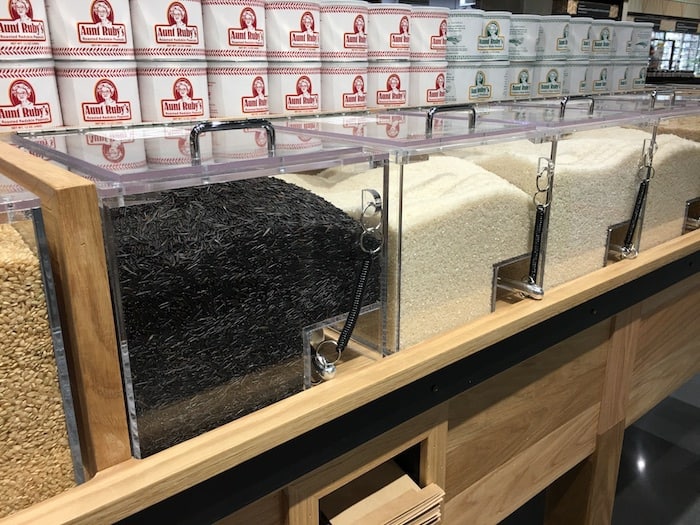 3. Buy in bulk
Buying in bulk doesn't necessarily mean buying a lot. The beauty of the bulk bins is that you just buy what you need, no matter how small of an amount. So if you need a half cup of lentils for a recipe, you buy a half cup of lentils and you're not stuck with the rest of the bag. Want a nice way to store your purchase? Buy a mason jar from Whole Foods Market and use that for your bulk purchases. You'll weigh it before filling it, so you're not paying for its weight.
4. Buy the case
On the other hand, if you need a lot of a packaged item, stock up by buying a case. You'll save 10% when you do that.
5. Buy six bottles of wine
Similarly, you can save 10% by buying six bottles of wine. They don't have to be the same kind of wine. Mix and match. Nobody can have too much wine.
6. Sommelier Select Wine
Get a good deal on good wine by looking for the Sommelier Selects wines. These are wines that are selected by the Whole Foods Market wine experts and then marked down significantly. So, you can try a wine that might otherwise be a little out of your budget.
7.  Take advantage of the services at the meat and fish counters
Whole Foods Market's meat and fish departments are staffed by a full-service butcher and fish monger. What that means is that you can get any cut of meat that you want. They'll also cut up your whole chicken, debone fish, devein shrimp, and do pretty much anything you need done, for no additional charge. They'll even add marinade or dry rubs for no additional up-charge. They've got roughly 15 marinades and 7 dry rubs to choose from. This means that, besides eliminating prep time for yourself, you're not buying a bunch of spices that you don't need. And since you are paying per pound, you're not paying for the bones if you don't want them.
Look for the color-coded sale signs with the products at the meat and fish counters. Although Whole Foods Market has high standards for animal welfare and sustainable fishing, you can always find some items that are comparable in price to conventional supermarkets.
A note about opening week at Whole Foods Market Uptown: As mentioned above, sausage will be just $3.99/pound the first week. This sausage is made in-house and they've got 12 different flavors of pork sausage and 2 flavors of chicken sausage.
8. Stock up on supplements
Keep an eye open for sales on vitamins and supplements. When they happen, they are a big savings, and you can stock up for many months.
9. Bring your own bags
Bring your own reusable bags and you save 10 cents a bag. It's not much, but why not, right?
10. Be smart at the salad bar
If you want to really fine tune your savings at the salad bar, compare the price per ounce of items in the bulk bins to the price per ounce of your salad as a whole. You might find you can save a little money by buying certain items, like nuts and seeds, from the bulk bins and topping your salad with them yourself, rather than getting them at the salad bar.
11. Pizza is a pretty good deal!
The self-serve pizza slices are huge and cost $3.50 a slice, or $6 for two. Or get a whole made-to-order, one-topping pizza for $14, or $24 for two.
12. Look for 365 Everyday Value Items
365 Everyday Value is Whole Foods Market's lower priced store brand. Many of the items are organic. Check the prices on the staples that you normally use, compare them to the 365 Everyday Value items, and you might find they're a money saver for you.
13. Try it before you buy it
If you're not sure of a product, even a packaged product, ask a Whole Foods Market employee if you can taste it. Or if your child can taste it. You can sample just about anything, within reason. That way you won't end up with a whole bag of veggie chips that nobody will eat.
14. Use your Amazon Visa if you have one
If you have an Amazon Prime Rewards Visa card, you'll get a 3% reward for everything you spend at Whole Foods Market, just like you do on Amazon. That means that you're getting 13% off every sale item (this 3% plus the 10% discount Amazon Prime members get on sale items.) The card has no annual fee. Also right now, once your application is accepted you get a $50 Amazon gift card.