May 20th, 2018, marks the 243rd anniversary of the signing of the Mecklenburg Declaration of Independence, which preceded the signing of the more famous Declaration by more than a year. Charlotte celebrates this date every year. It is the day of the year that you're most likely to see horses and people in Colonial garb in Uptown Charlotte. (It's mainly the people wearing the colonial garb, not the horses.) Here's what's going on Friday, May 18th, through Sunday, May 20th, 2018.
Friday, May 18th, 2018
12 p.m.
The Square, Trade and Tryon
Free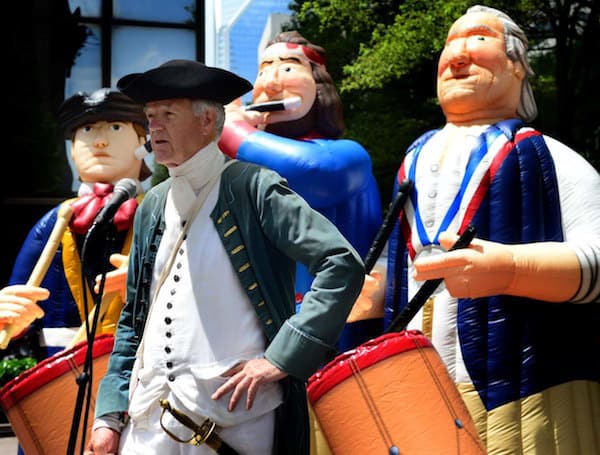 At 12 p.m., gather at the Square, Uptown at Trade and Tryon. Plan to come out and celebrate this annual commemoration in Charlotte. The MeckDec celebration has hosted four former Presidents (Taft, Wilson, Eisenhower and Ford), military Generals, a First Lady and countless dignitaries. This year is the 50th anniversary of First Lady Bird's visit to Charlotte for the MeckDec celebration in 1968.
Celebrate the signing of the declaration, the spirit of our community and the distinct and rebellious history that binds our community together. Events will include Military and Colonial Re-enactors, Historical Readings, horses, military parades, cannon firing and good ol' American-styled patriotic celebration of who we are as a people.
Saturday, May 19th
11 a.m. to 5 p.m.
Charlotte Museum of History, 3500 Shamrock Drive.
Adults: $10
Kids: $8
Tour Mecklenburg County's oldest home site, which was standing when the MeckDec was written and where one of its signers lived.
Experience readings of the MeckDec, a reenactment of the signing, artillery demonstrations and more at a Colonial military encampment provided by local reenactment groups including the Mecklenburg Militia, Kingsbury's NC Artillery Company and Locke's Dismounted Militia.
Try your hand at quill pen-and-ink writing with History's Kids, and embrace Charlotte's independent spirit by signing your own declaration at the American Freedom Bell.
Learn about 18th century tavern foods with cooking demos in the historic kitchen.
Enjoy old-time fiddle music by Scott Stegall and Zach Mahoney (from 2-4 p.m.)
Visit "Captain Jack's Tavern" in the barn for a Colonial beer brewing tutorial by Carolina BrewMasters (2-5 p.m.), and grab a brew from Bold Missy Brewery.
Sunday, May 20th
5 p.m. to 6:30 p.m.
Petra's, 1919 Commonwealth Avenue
Free
Join us and some special guests as we celebrate Charlotte, play some games and hopefully make you laugh.Doors open at 4:30 and admission is free! Sponsored by Lineberger Dentistry.
Sunday, May 20th
11 a.m. to 11 p.m.
Free
Captain Jack Pilsner with special edition labels. Captain Jack and other Colonial folks will be on hand!
Sunday, May 20th
2 p.m. to 4 p.m.
Free
In the Summer of 1775, Captain James Jack rode 450 miles to deliver the Mecklenburg Declaration of Independence to Congress. In honor of his historic ride, we invite you to participate in a historic bike ride from the Olde Mecklenburg Brewery to various historical locations around Charlotte relevant to Captain Jack. The ride will be leaving from Olde Mecklenburg Brewery and finishing there with a social upon return.
This event is in partnership with Queen City Bicycles and The Olde Mecklenburg Brewery.
More about Meck Dec Day
Learn more about the history of MeckDec Day.
Some other Meck Dec related sites
Charlotte Liberty Walk has a marker for the singing of the Mecklenburg Declaration of Independence.
The Captain Jack Statue, part of the Trail of History, is on the Little Sugar Creek Greenway, at CPCC.
The Matheson Bridge Mural, by William Puckett, visually depicts the story of the Meck Dec. You'll find it under the Matheson Street Bridge, over North Davidson Street.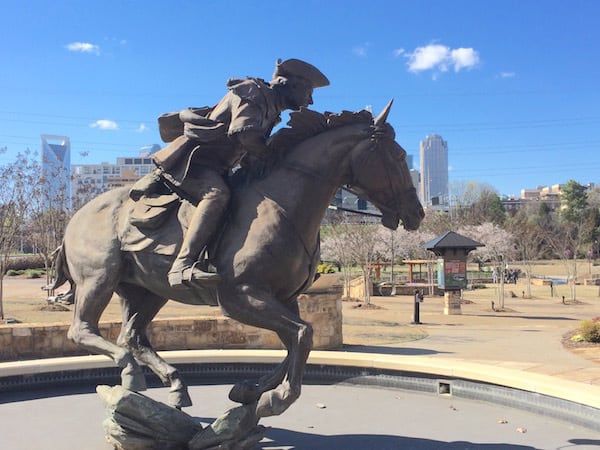 Charlotte Museum of History
3500 Shamrock Drive
Charlotte, NC 704-568-1774