Gaston Pour House, at 170 S. South Street, Gastonia, serves breakfast, lunch, dinner, coffee, light bites, wine, cocktails and beer.
Their hours are:
Monday-Thursday: 8 a.m. to 10 p.m.
Friday: 8 a.m. to 12 a.m.
Saturday: 9 a.m. to 12 a.m.
They also host frequent events, with no cover. You can find all the events on their Facebook page.
Here's some of what's coming up:

Open Jam at Gaston Pour House
Every other Wednesday
7 p.m.
Free
December 5 Open Jam
December 19 Open Jam
January 2 Open Jam
January 16 Open Jam
This is an open mic and open jam that takes place every other Wednesday (see above dates) from 7 p.m. to 10 p.m. All instruments and original music are welcome. Play solo, duo or as a band. Play covers or original music. Jam with others. Full PA provided.
Live music: Jade Moore
Friday, December 7th, 2018
8 p.m. to 11 p.m
Holiday Wine Show
Wednesday, December 12th, 2018
6:30 p.m. to 8:30 p.m.
Free
At this Holiday Sip & Shop, come and sample some wine.
Live music: Dan Staton Duo
Friday, December 14th, 2018
8 p.m. to 10 p.m.
Free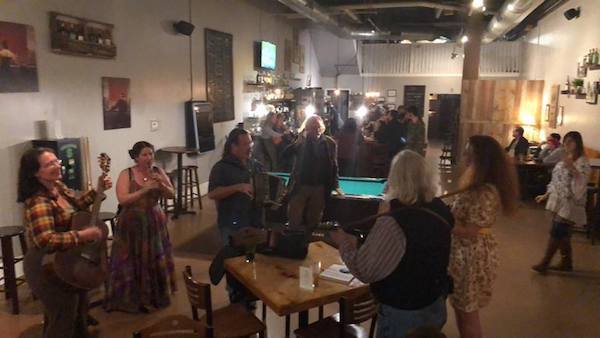 Gaston FolkSing
Every 3rd Thursday of the month
8 pm. to 10 p.m.
December 20th Gaston Folk Sing
Free
The Gaston Folk Sing is an all inclusive folk song gathering hosted by Brad Lee Howard.
New Year's Eve at Gaston Pour House
Monday, December 31st, 2018
8 pm.
Free
Celebrate the new year Gatsby style! You're encouraged to come dressed in your best 1920 Prohibition attire. There will be a $10 50/50 raffle. Live music by Rukus. Hors D'Oeuvres. Champagne toast. RSVP to tinafitz.gph@gmail.com to reserve your space and to receive a password for admission.
When
Every 2 weeks on Wednesday @ 7:00 pm-10:00 pm (December 5, 2018 - January 30, 2019)
When
December 12, 2018 @ 6:30 pm-8:30 pm
When
December 14, 2018 @ 8:00 pm-10:00 pm
When
Monthly on the 3rd Thursday @ 8:00 pm-10:00 pm (starting December 20, 2018)
When
December 31, 2018 @ 8:00 pm