TreesCharlotte, an organization dedicated to increasing Charlotte's tree canopy, holds several free TreeStores every year. At these events, Charlotte residents can receive free trees, as well as training on how to care for them.
New this year: Get through the line quicker by pre-registering in advance. Three weeks before each store, TreesCharlotte will open online registration. While pre-registering does not guarantee you trees or tree varieties, it will allow you to bypass the paperwork line and get through the process faster.
The schedule has been announced for the 2018/2019 TreeStores:
Breathe Free CLT
Saturday, October 6th, 2018
10:30 a.m. to 12 p.m.
Camp North End, 1824 Statesville Avenue
Breathe Free CLT, a free tree store presented by Novant Health. Here's a great way to kick off the planting season – with a HUGE free tree store at one of Charlotte's coolest new spots, Camp North End. We'll have a lot of everything, from evergreens to flowering trees to mighty oaks and maples.
The store officially opens at 10:30 a.m. but we expect the line to start forming by 8 a.m. Store closes at noon, or when the last tree is given away.
TreesCharlotte will be giving away 500 trees. You need proof of Charlotte residency (license, water bill, etc.) You'll get two free trees and two bags of mulch.
Every recipient must attend a tree-planting clinic and sign a stewardship pledge.
Also, during the store, the Kiwanis of Charlotte will host the "Under the Canopy Chili Cook-off," where teams compete for the chili championship. A $5 donation gets folks into the event and lets them sample all of the chilis. A portion of proceeds benefits TreesCharlotte education programming in CMS schools.
The chili cook-off runs 11 a.m.-2 p.m.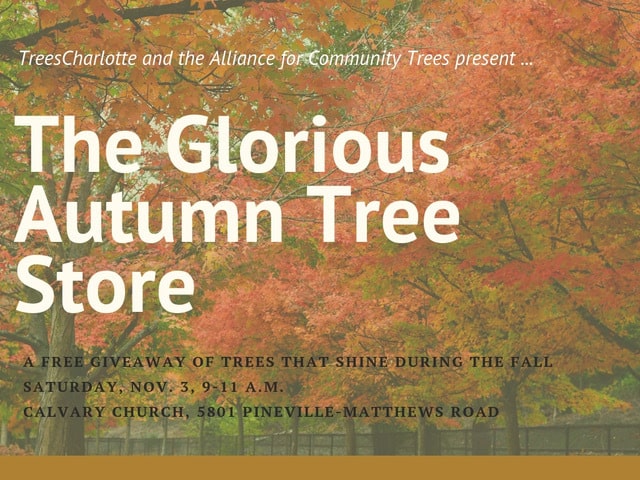 Glorious Autumn Free Tree Store
Saturday, November 3rd, 2018
9 a.m. to 11 p.m.
Calvary Church, 5801 Pineville-Matthews Road
This free store will feature trees that do something marvelous during the fall, whether it's brilliant color or crops of pinecones.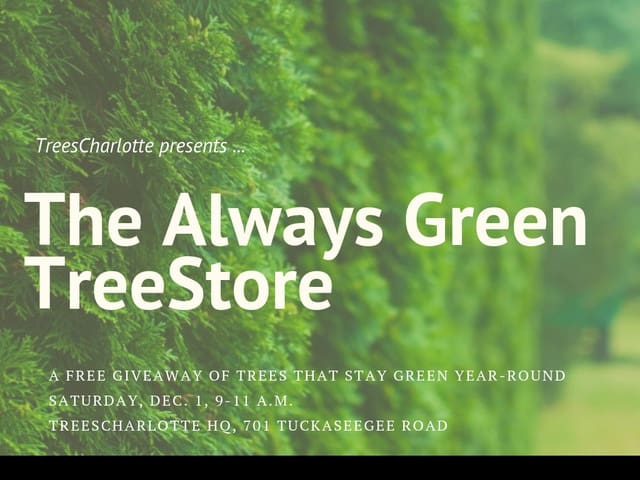 The Always Green Free Tree Store
Saturday, December 1st, 2018
9 a.m. to 11 a.m.
TreesCharlotte headquarters, 701 Tuckaseegee Road
The third free tree store of the season is all about evergreens. If you're looking for a magnolia, arborvitae, cypress, etc., get your mittens and scarf on and come on down.
The line will probably start to form around 8 a.m. TreesCharlotte will be giving away 350 evergreen trees, ages 2-4 years old, planted in 7-gallon containers, height of 5 feet to 12 feet.
While waiting in line, enjoy hot chocolate from Cuplux.
Also, the City of Charltotte will be giving away free cankerworm banding kits to TreeStore recipients who are interested in participating in the Great Cankerworm Count.

Zip Code TreeStore for 28217, 28273 or 28278
January 19th, 2019
10 a.m. to 11 a.m.
Steele Creek Athletic Association
13530 Choate Circle
Steele Creek, are you ready for trees, trees and more trees? This thriving southwest corner of the city has transformed from miles of farmland into the fastest-developing community in Charlotte. And that makes it the perfect spot for new trees. TreesCharlotte invites residents who live in the 28217, 28273 and 28278 zip codes to the inaugural Zip Code TreeStore! There will be 200 beautiful trees (species TBA) to give away (yes, that means FREE!). Only those with proof of residency in one of those zip codes may get trees at this event. Pre-registration, which opens Jan. 9, is required for this event. Register for Trees.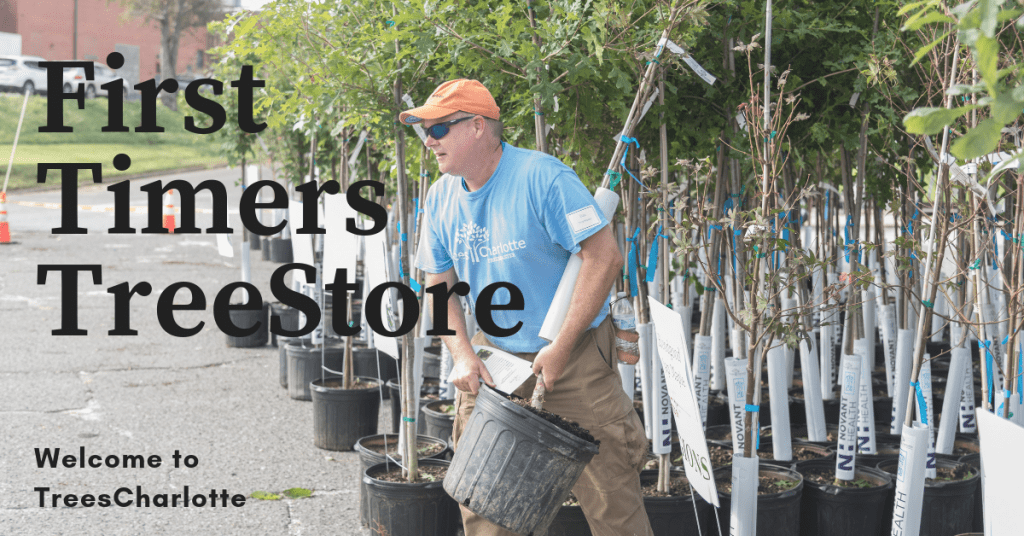 First-Timers TreeStore
Saturday, February 2nd, 2019
10 a.m. to 11 a.m.
Carmel Middle School
5001 Camilla Drive
Whether you're new to Charlotte or new to TreesCharlotte, here's a special invitation just for you. On Feb. 2, TreesCharlotte is hosting the inaugural First Timers TreeStore, where they're giving away 100 free trees to Charlotte residents who've never shopped the tree stores before! If you're a TreesCharlotte first-timer, you can take home up two FREE trees (6-10 feet, 7-gallon containers) and two bags of mulch! There will be arborists on hand to help you pick the right species and volunteers to teach you how to plant them properly. Pre-registration is required and opens Jan. 23 at TreesCharlotte.org, which is where you can learn more about this non-profit and our work over the last seven years planting 30,000-plus trees. Register for trees.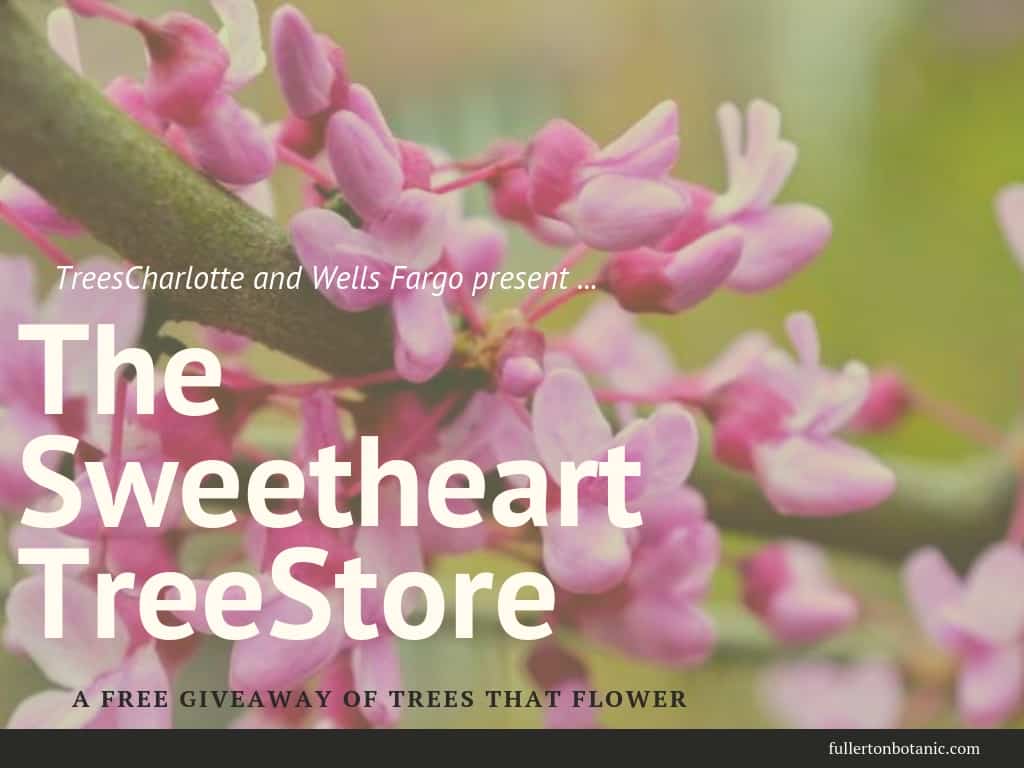 Sweetheart Tree Store, presented by Wells Fargo
Saturday, February 9th, 2019
9 a.m. to 11 a.m.
Charlotte Museum of History, 3500 Shamrock Drive
If you're a Charlotte resident (proof required), you can get two free trees at this Sweetheart TreeStore, which will feature small, flowering trees that are perfect for urban yards. All recipients will be required to take a 15-minute tree-planting clinic and sign a stewardship pledge. A free bag of mulch comes with each tree. Pre-registration will open 2 weeks before event. This event will also feature short programming from the Charlotte Museum of History to educate and entertain folks as they stand in line.
March 9: Spring Has Sprung Free Tree Store
Saturday, March 9th, 2019
9 a.m. to 11 a.m.
TreesCharlotte headquarters, 701 Tuckaseegee Road
This is TreesCharlotte's biggest tree giveaway of the year, with 800-1,000 trees, ranging from mighty oaks to delicate dogwoods. Proof of Charlotte residency gets you two trees and two bags of mulch. What a terrific way to give your yard a dose of spring beauty! All recipients must attend a 15-minute tree-planting clinic. Pre-registration opens 3 weeks before store.
Since the mission of Trees Charlotte is to increase Charlotte's tree canopy, the program is limited to Charlotte residents.
Each Charlotte household is eligible for up to two free trees at each TreeStore. Proof of Charlotte residency (such as a driver's license, utility bill, etc.) as well as a valid email address must be provided in order to participate.
At each TreeStore, you will be trained on how to properly plant and care for your tree(s). Tree training is mandatory. You will then be asked to complete and sign a Stewardship Pledge Form with your home and email address (mandatory) and declare your pledge to take care of the tree(s) we provide.
TreesCharlotte cannot guarantee species type or quantities.
This is a first come, first served event as quantities are limited.
When
March 9, 2019 @ 9:00 am-11:00 am
What
TreeStore: Free trees for Charlotte residents from TreesCharlotte
Where
Charlotte Landscape Management