Celebrate Earth Day 2018 at one of these festivals in the Charlotte area. Also, scroll down to see some frugal Earth Day crafts for kids. And KEEP scrolling to see a larger list of Earth Day events.
If you're not doing this already, you can subscribe to Charlotte on the Cheap's daily emails (just one a day), and follow us on Facebook and Twitter.
Free and cheap Earth Day events in the Charlotte region
Matthews Earth Day Celebration
Saturday, April 14th, 2018, 10 a.m. to 2 p.m.
Four Mile Greenway behind Matthews Community Center, 100 McDowell Street, Matthews
Free
Presented by Habitat and Wildlife Keepers (HAWK)
Come out to the Four Mile Creek Greenway behind the Matthews Community Center to celebrate Earth Day with Kids In Nature Day.
Activities/Displays Include:
Eco-Friendly Exhibits & Vendors
Rain barrels from Coca Cola (Limited supply)
HAWK-cycling: egg cartons, corks, pull tabs, etc.
E-cycling by Goodwill Industries
Document Shredding (10am-12pm)
Free NWF tree seedlings
Hikes and Scavenger Hunts
Kids Crafts & Fairy Houses
Music, and FREE Family Fun
EarthFest 2018
Saturday, April 14th, and Sunday, April 15th, 11 a.m. to 3 p.m.
Daniel Stowe Botanical Garden, 6500 South New Hope Road, Belmont
Regular admission applies:
Regular admission:
$12.95 for adults
$11.95 for seniors 60+
$6.95 for children 2-12
Free to Garden Members and children under age 2
Celebrate an early Earth Day at the Garden: Crafts, lawn games, live music, guided hikes, horse-drawn carriage rides (additional fee), and more! Meet with earth-friendly vendors and learn more about sustainable living. Making a second annual appearance, Aloha in Motion Dance Company will provide live entertainment and a Tahitian hula dance lesson on April 14 at 1 p.m.
Garden's First Yard Sale
April 14 & 15 9 a.m. – 5 p.m.
Free for Members or with General Admission
Family Fun Workshop: Upcycled Art
Sunday, April 15; 11:30 a.m. – 12:30 p.m. & 1:30 – 2:30 p.m.
$20/One Child + One Parent, $5/Additional Participant
Click here to register today!
UNC Charlotte Earth Day Celebration and Free Yoga
Wednesday, April 18th
10 a.m. to 2 p.m.
UNC Charlotte CHHS Plaza
Free
In support of Earth Day, which has been observed for 48 years, UNC Charlotte (UNCC Sustainability & UNCC Recycles) will be hosting its annual Earth Day Festival. This gathering brings together student organizations, campus entities, non-profits, and individuals who are involved in making our environment and community a better place.
Two free yoga classes will be offered by UNC Charlotte Recreational Services instructors at 11:00am and at 1:00pm. The classes will be 20 minutes and all standing – so no need to bring a mat.
Gardens and Verses: An Earth Day Celebration at UNC Charlotte Botanical Gardens
Thursday, April 19th
11 a.m. to 2 p.m.
UNC Charlotte Botanical Gardens
Free
Gardens and Verses: An Earth Day Celebration is an event cosponsored by the Department of English and the Botanical Gardens. Several stations will offer attendees the opportunity to learn how to write in specific genres of poetry as well as to contemplate the particular natural settings the gardens have to offer.
A literary scavenger hunt will familiarize participants with the wide range of plants contained in the gardens. There will be literary readings and an "open mic" for those who wish to share original work.
Some light snacks will be provided.

Ballantyne Earth Day Celebration
Friday, April 20th
11:30 a.m. to 1:30 p.m.
Brixham Tent, 15801 Brixham Hill Avenue
Free
The free community event features music, a farmer's market, food truck fare, on-site dog adoptions, great giveaways and over 40 local vendors showcasing their sustainable efforts or green products. There will be secure shredding and recycling opportunities beginning at 7 a.m. and a hands-on volunteer project with Togetherhood.
Every Day is Earth Day–Drop-in Program
Friday, April 20th
1 p.m. to 3 p.m.
Latta Plantation Nature Center
Free
You can celebrate the Earth any day, but April 22nd is the official Earth Day! Drop in to the nature center this Friday to get ready to celebrate the weekend's holiday. We'll have crafts, animal meet and greets, and other fun ways to celebrate our favorite home planet. All Ages.
Earth Day Nature's Way Storytelling Event
Saturday, April 21st
2 p.m. to 4 p.m.
Reedy Creek Nature Center
Free
Eight accomplished tellers with the North Carolina Storytelling Guild would like to honor Earth Day with you! Their carefully crafted stories will bring heads and hearts together as we consider this Earth we hold so dear. This is a family friendly event. The stories will be most appropriate for those of elementary age and older. Must call 980-314-1119 to register.
Ages 5 and up
Earth Day at Cloister Honey
Saturday, April 21st
9:30 a.m. and 11 a.m.
Cloister Honey, 3314 Rainbow Circle
Free
Follow above link to register. There are just 25 slots for each time slot. Free tour of production facility and bee-friendly garden. Plus free tastings!
Anne Springs Close Greenway Earth Day
Saturday, April 21st, 2018, 11 a.m. to 3 p.m.
Anne Springs Close Greenway, 288 Dairy Barn Lane, Fort Mill, South Carolina
"Recycled Runway" competition, horse and wagon rides, canoeing and kayaking, nature and history walks, geocaching, farm animals, more.
Free
Annual Tree Climbing Competition
Saturday, April 21st, and Sunday, April 22nd, 8 a.m. to 5 p.m. both days
Freedom Park 1900 East Boulevard
Watch some of the world's best tree climbers compete in five categories. There will also be a family fun climb. Professional Certified Arborists will help climbers into saddles attached to ropes that have been secured up in the crown of the tree, and professional climbing instructors will work with each climber.
Free

IKEA Make Room for Nature Day
Saturday, April 21st, and Sunday, April 22nd
9:30 a.m. to 4 p.m. both days
IKEA, 8300 IKEA Boulevard
Workshops, contests, and giveaways. The first 200 IKEA Family Members who show their membership card each day get a free laundry bag and chocolate.
Free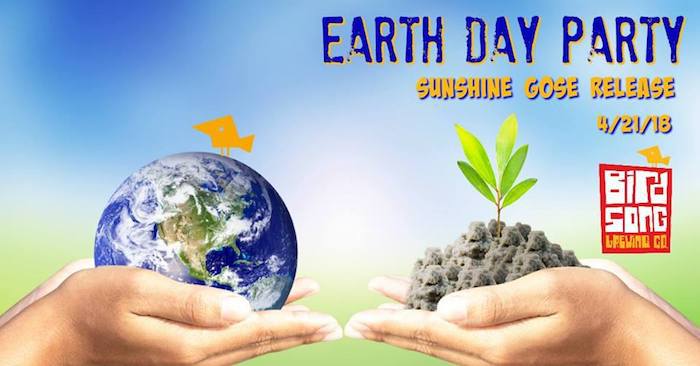 Earth Day Party & Sunshine Gose Release
Saturday, April 21st
1 p.m. to 6 p.m.
Birdsong Brewing Co., 1016 North Davidson Street
Free
Williams Subaru of Charlotte will be here with Eco-friendly giveaways such as recycled tote bags, recycled pens, eco coolies, recycled planters with seeds, recycled utensil sets, and sunglasses. They will also have some dog friendly items as well.
Giveaway for those who get there by riding the rails or ride sharing.
Earth: Our Spaceship
Saturday, April 21st, 2018, 10 a.m. to 3 p.m.
Schiele Museum of Natural History, 1500 East Garrison Boulevard, Gastonia
Residents of Planet Earth are flying through space at 18.5 miles per second. Everything needed to survive is on board. We have to conserve our rations and monitor our resources. Our species depends on us. Discover how to ensure our mission's success through games and activities presented by The Schiele and community partners.
Regular Admission Price:
Adults $7
Children (4-18) $6
Students w/ ID (18+) $6
Seniors (65+) $6
City of Gastonia residents: $5
Active military: Free
Earth Day at the Park
Sunday, April 22nd
2 p.m. to 4 p.m.
Reedy Creek Park
Free
Creative Favors & Co presents Earth Day At The Park. Plant a seedling, design your own flower pot, plant a flower or vegetable for your own garden, learn to recycle, learn about lawn care. Scavenger hunt, face painting, light refreshments.
Earth Day Adventures–scavenger hunt and live animal shows
Sunday, April 22nd
1 p.m. to 4:30 p.m.
Latta Plantation Nature Center
Free
Celebrate Earth Day with the nature center by going on an Earth Day themed scavenger hunt and joining us for one of our live animal shows. Live animal shows will be at 2pm and 3pm and last for about 30 minutes. Pick up a scavenger hunt from the nature center at any time and return it by 4:30 to receive a prize. All Ages
Earth Day Time Capsule
Sunday, April 22nd
1 p.m. to 2 p.m.
McDowell Nature Center
Free
Learn about challenges the Earth is currently facing and what you can to live more sustainably. Create a time capsule to take home with your projected outcome and your new helpful habit of choice. Registration required for ALL participants, adult and child alike. Free registration. Ages: 7+
Earth Day Birthday
April 28th, 10 a.m. to 3 p.m.
Museum of York County, 4621 Mt. Gallant Rd, Rock Hill, South Carolina
Free
• More than 25 educational exhibits, each with a hands-on environmental message
• Activities and games
• Planetarium programs and museum exhibits
• Food, tie dye t-shirt activity and Master Gardener plant sale (available for a fee; cash only)
• Participate in a scavenger hunt for a chance to win great prizes including a kayak and bicycle
Fun Earth Day projects for kids
Grow Some Memories–Earth Day Mini Garden

Help kids make mini-gardens out of recycled plastic bags, fabric scraps and ribbons. Fill each DIY satchel with a half cup of soil and wildflower seeds. Kids can then scatter their garden-to-go in the backyard or a soil-filled container, water frequently, and watch flowers bloom through the summer.
Instructions
Toilet Paper Roll Bird Feeder

Teach the kids about recycling by reusing toilet paper rolls for a fun craft. All it takes is a little peanut butter, bird seed, a couple of sticks from the yard and some string.
Instructions
Earth Day Cupcakes

Just add blue and green food coloring to a white cake mix for a fun and simple treat that kids will love to make and eat.
Instructions
Day by Day List of Earth Day Events