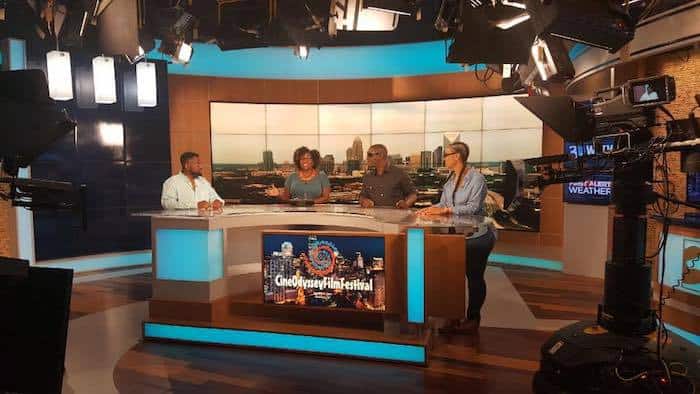 The CineOdyssey Film Festival celebrates and gives voice to filmmakers of color from the African, Caribbean, Latino, Asian, and Native American diasporas as well as the U.S. It serves to bring together diverse audiences, bridge cultural understanding, and encourage the artistic development of aspiring filmmakers.
This is the festival's second year.
The film festival takes place from Thursday, July 12th, 2018, to Saturday, July 14th, 2018, at Wells Fargo Auditorium at Knight Theater, 430 S. Tryon Street.
The cost ranges from free for a Smartphone Filmmaking 101 Workshop on Saturday, to $10 for single films, to $65 for an all-access pass. See all the options and purchase tickets on Eventbrite.
Read about each film on the CineOdyssey Film Festival website.
Opening Night Screening and Reception
Thursday, July 12th, 2018
7 p.m. to 11 p.m.
Opening Night Screening and Rec
Short Film Showcase
Friday, July 13th, 2018
7 p.m. to 11 p.m.
A night of the best in short films from regional, national and international filmmakers
Smartphone Filmmaking 101
Saturday, July 14th, 2018
10 a.m. to 12 p.m
Free
This free workshop, taught by Charlotte, NC filmmaker Quinton Littlejohn, will introduce basic techniques in smartphone film production to create long and short form content for the web and other streaming platforms. We will also screen short films shot on mobile devices, including the 8 minute, award winning "Tagged", directed by Elaine Del Valle, shot on LG's game changing V30.
All Day Screenings, Panels and Special Guest
Saturday, July 14th, 2018
1 p.m. to 11 p.m.
A full day and evening of features, shorts, docs, panel discussions, "The Actor's Journey", and awards!
Purchase tickets on eventbrite.
More film events
Tuesday, February 19, 2019
Wednesday, February 20, 2019
Thursday, February 21, 2019
Friday, February 22, 2019
Saturday, February 23, 2019
Sunday, February 24, 2019
Saturday, March 2, 2019
Monday, March 4, 2019