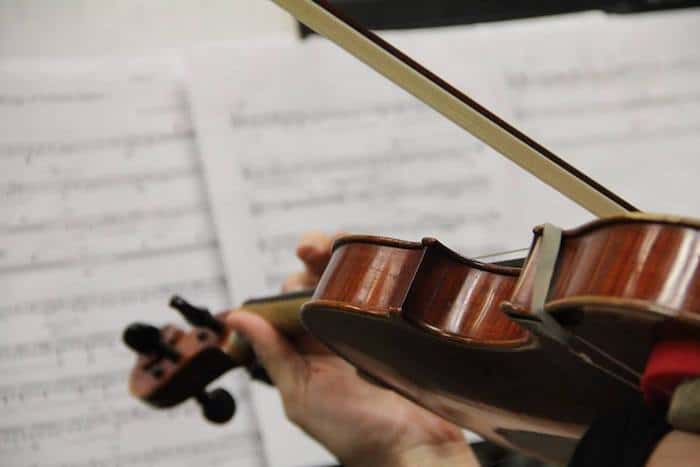 For the seventh year, Charlotte New Music Festival is bringing contemporary classical music to varied venues around Charlotte, for affordable prices. From June 19th, 2018, to June 30th, you'll have nine chances to see new work created by composers and musicians from all over the world. Prices range from free to $12 for performances.
You can register to attend performances through the links below.
Here's the schedule:
New Music Open Mic at Belk Chapel
Tuesday, June 19th, 2018
7 p.m. to 10 p.m.
Belk Chapel
2234 Radcliffe Avenue
$12. Students: $5. Purchase tickets.
Charlotte New Music Festival invites musicians and composers to perform their music in a fun, casual setting. Whether it's performing a previously written work, exploring something new and unusual, or an improvisation, sign up now and share your creativity.
Red Clay Saxophone Quartet at The Evening Muse
Thursday, June 21st
7:30 p.m.
The Evening Muse
3227 N. Davidson Street
$10 Purchase tickets.
Charlotte New Music Festival is proud to present to you the Red Clay Saxophone Quartet during this June's concert series. Red Clay will perform new music, including a piece that won the recent 2017 CNMF & Red Clay National Composition Competition, "Urban Composites" by Erin Rogers. All composers will be in attendance.
Red Clay Sax Quartet was formed in 2003 when the fates conspired to bring four internationally recognized saxophonists (Susan Fancher, Robert Faub, Steven Stusek and Mark Engebretson) together in Greensboro, North Carolina. The RCSQ takes its name from the area's luscious red soil. The Quartet presents a varied repertoire from classical to jazz to new music to tango, featuring music by composers such as Ben Johnston, György Ligeti, Chick Corea, Perry Goldstein, Francis Poulenc, Alejandro Rutty, Ben Boone, Steve Reich, Mark Engebretson, Martin Bresnick, Burton Beerman and Gavin Bryars. Red Clay offers a variety of concert programs, including Sax Appeal, French Connections, Composers of the Carolinas, Never Too Tango and Tikvah.

Beo String Quartet
Saturday, June 23rd
6:30 p.m.
Snug Harbor
1228 Gordon Street
$12. $5 for students. Purchase tickets
The Charlotte New Music Festival invites you to join us for a concert featuring performances by the Beo String Quartet from Pittsburgh, PA.
Beo String Quartet will be performing new works by guest artists at the Charlotte New Music Festival.

Duo Zonda Orlando Cela & Wei Zhao (flutes)
Monday, June 25th
7:30 p.m.
Google Fiber Space
301 E. 7th Street
Free
Performing music written by the composers at the Charlotte New Music Festival.
Small Batch Concert: Beo String Quartet
Tuesday, June 26th
7:30 p.m.
Free Range Brewing
2320 N. Davidson Street
Free, but $10 gets you admission, a special pint glass and a beer. Purchase now.
Presented by 89.9 WDAV Classical Public Radio in partnership with the Charlotte New Music Festival.
WDAV has teamed up with Free Range Brewing and the Charlotte New Music Festival to present the next Small Batch concert, bringing together good music, good people, and good beer. A $10 ticket supports the station and also gets you a Small Batch glass filled with a beer from Free Range.
Beo String Quartet, CNMF's quartet in residence, will present program of fresh chamber works by composers at the Charlotte New Music Festival. This will also include a piece by the winner of the 3rd annual Charlotte New Music & Beo String Quartet National Composition Competition: Kyle Sanna.

Free Improv Concert
Wednesday, June 27th
Doors at 7 p.m. Show at 8 p.m.
Petra's
1919 Commonwealth Avenue
Free. Age 21+
FEATURING:
Kyle Sanna, http://kylesanna.com/
Erin Rogers, http://www.erinmrogers.com/
Dave Bullard, https://jmsbass.bandcamp.com/album/crows-and-ghosts
Troy Conn, www.troyconn.com
John Shaughnessy, https://jmsbass.bandcamp.com/music
Hypercube
Friday, June 29th
7:30 p.m.
Myers Park Presbyterian Church
2501 Oxford Place
$12. $5 for students. Purchase tickets
A quartet of saxophone, guitar, piano, and percussion, HYPERCUBE embraces the boundaries of chamber music, at home in both electric and acoustic worlds. This group of tenacious NYC musicians formed with the goal of performing high quality, cutting-edge, challenging repertoire that is often underperformed.
Computer Music Concert
Saturday, June 30th
4:30 p.m.
Petra's
1919 Commonwealth Avenue
$12. $5 for students. $3 surcharge for under 21. Purchase tickets
We invite you to join us for our Laptop Orchestra and Computer Music Concert at the conclusion of the festival!
Come explore new sounds and musical spaces with performances crafted for humans, laptops, and a variety of input devices and speaker arrays!
Music is created using Max/MSP, a visual programming language designed for interactive performance.
Contest in the "Concert of the Miniatures"
Saturday, June 30th
7:30 p.m.
Goodyear Arts
1720 Statesville Avenue
$12. $5 for students. Purchase tickets
Featuring the Beo String Quartet.
"To achieve great things, two things are needed; a plan, and not quite enough time."
– Leonard Bernstein
The composers featured on this program have been given approximately one week to compose a short new work. Join us for this concert and discover where their inspiration takes them! As an audience member, vote for your favorite piece during the concert via text. The winner will receive an Audience Choice Award!