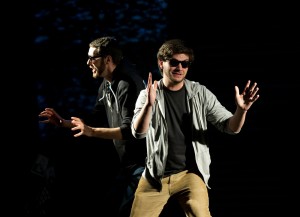 The UNC Charlotte Department of Theatre will host the Chapel Hill-based Sacrificial Poets in a three-day residency that culminates in a free public performance on November 16 at 7:30 pm in the Cone Center's After Hours event space. Here's more information on Sacrificial Poets:
The Sacrificial Poets is an award-winning spoken word poetry organization that serves middle school, high school, and college-aged youth across North Carolina. Established in 2005, the Sacrificial Poets was formerly known as the Chapel Hill Slam Team. After the brutal murder of UNC Charlotte student and founding Slam Team member Irina Yarmolenko in 2008, the team changed its name to the "Sacrificial Poets" to commemorate her legacy and contribution.
The Sacrificial Poets write and perform spoken word pieces about issues of social justice. A recent performance project (2011) chronicles their travels to Egypt and Tunisia to interview witnesses to the events of the Arab uprisings—the revolutionary actions that began with the December 2010 self-immolation of Tunisian protester Mohamed Bouazizi and led to the overthrow of Egypt's Hosni Mubarak. The multi-media production they created from this experience, Poetic Portraits of a Revolution, is a series of slam style performance poems supported by filmed interviews, music, still photographs, and text.