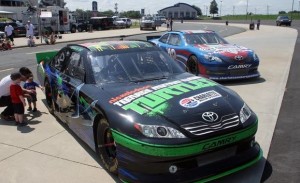 Get a taste of the excitement of NASCAR racing at the Parade of Power on Wednesday, August 5th, 2015, starting at 12:00 p.m.  It starts at Concord Mills and ends at the main entrance of Charlotte Motor Speedway. Richard Childress Racing drivers Austin and Ty Dillon and Charlotte Motor Speedway officials will wave the green flag on the legendary speedway's action-packed fall Season of Speed during the seventh annual Parade of Power on Wednesday, Aug. 5.
A wide array of vehicles representing those that will compete this fall at Charlotte Motor Speedway, zMAX Dragway and The Dirt Track at Charlotte will parade down Bruton Smith Boulevard, beginning at Concord Mills Mall and ending at the speedway's Avenue of Flags. The free fan event will include a Q&A and autograph session with the Richard Childress Racing drivers, special ticket offers, monster truck rides, the Kangaroo Express Fan Van and more. The first 100 fans to pick up a wristband on event day will be able to take part in an autograph session with several motorsports personalities.
The Parade of Power is expected to include more than two dozen vehicles, including NASCAR stock cars, a World of Outlaws dirt late model, a monster truck, NHRA dragsters and Pro Modified cars, a Legend Car and Bandolero, speedway Toyota Camry pace cars, the speedway's Rosenbauer fire engine, classic and luxury automobiles, and more.